Why can't Justin Timberlake get a hit?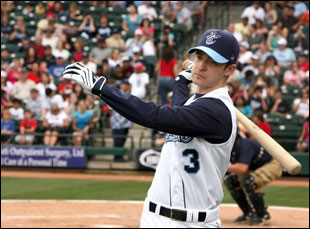 Posted by Stephen Saito on
Ben Stiller isn't the only big name with a movie getting dumped this month. Next week, Anchor Bay Entertainment will unceremoniously release "The Open Road," a dramedy starring Justin Timberlake as a minor league ballplayer trying to reconnect with his far more famous pop (Jeff Bridges) in order to fulfill his mother's dying wish. Since Anchor Bay's comparably well-promoted "Spread" with Ashton Kutcher tanked at the box office last weekend, they won't probably waste any time whisking "The Open Road" in and out of theaters before an inevitable DVD release.
It's unlikely Timberlake will shed any tears over this latest setback to his acting career, especially after his first big film role in "Edison Force" went straight to DVD and his second, "Alpha Dog," sat on the shelf for a year as lawyers sought to prevent its release. Yet as his recently Emmy-nominated stint hosting "Saturday Night Live" proved, Timberlake's troubles in the film business haven't stemmed from a lack of trying. Like much of his film résumé, "The Open Road" probably seemed like good bet on paper — besides the opportunity to share the screen with Bridges, it was the directorial debut of Wim Wenders' protégé Michael Meredith. But since wrapping production last year, it completely evaded the festival circuit, where Timberlake has often been well-received in features like Craig Brewer's "Black Snake Moan" and Richard Kelly's "Southland Tales," even if the films themselves haven't.
Such are the perils of a career plan built on attaining artistic credibility to separate oneself from a pop star persona. Timberlake reportedly was ready to scratch all that as one of the three finalists for the coveted role of Hal Jordan in the big-budget adaptation of "Green Lantern." And these days, even established stars are having a hard time, as eBrooks Barnes reports in the New York Times this morning. In the wake of summer successes like "The Hangover," a film that Todd Phillips had to make for a price in order to get the cast he wanted, the tried-and-true ways of moving up in star system are changing.
Just the other day, people were grousing about Jon Hamm's decision to join the cast of Zack Snyder's "Sucker Punch" and parlay his "Mad Men" success into a movie career. But would Hamm doing — to steal a phrase from Michael Atkinson — a "résumé indie," the kind of down and dirty ensemble flick filled with familiar faces that populate film festivals these days, really be better for his career? We'll stay tuned, but Hamm and Timberlake can both take comfort that it took 26 years for Donnie Yen to finally be appreciated as a big-screen draw in his native China. Then again, Timberlake always has a screen fallback…as an "SNL" host, if nothing else.