Whit Stillman heads back to the dance.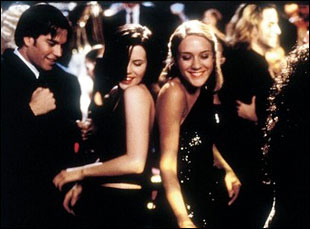 Posted by Stephen Saito on
Whit Stillman will never again have to answer that nagging question — when will "The Last Days of Disco" finally be rereleased on DVD? Criterion, who did a splendid job with "Metropolitan" in 2006, released their edition of "Disco" today, with the full bells-and-whistles treatment. There's also a screening at Lincoln Center in New York on August 27th, complete with a dance party, and a subsequent screening at the Jacob Burns Film Center on September 1st, both with the filmmaker in attendance.
Stillman confessed that he never actually got a copy of the long-out-of-print first disc, having seen it only once at a friend's house. For this new release, he's penned lengthy captions to accompany the stills gallery, dug deep into Warner Brothers' archives for deleted scenes and recorded an audio commentary with stars Chloë Sevigny and Chris Eigeman. (Not surprisingly, there's now talk of a Criterion edition of "Barcelona," as well). I caught up with Stillman over the weekend to talk about the new DVD, the enduring appeal of "Last Days," and what he's up to now.
How have you been since the last time we talked?
I've since relocated to the States, as of June. Things have been going very well. There are two new TV projects I've just been signed up for, so I have to slightly delay the feature I was hoping to do.
You've also been working on this DVD and recently, you attended a screening at MoMA for the film. What has it been like to revisit "Last Days"?
The journalistic comment on the film — not so much by critics, more by the journalists — tended to see it through the lens of a disco revival. There was Mark Christopher's film "54" coming out, there was our film called "Last Days of Disco," even though it's not so much about disco, and then there were other things that they decided to throw in to say that there was some sort of disco revival afoot. It's much better now, when all that dropped away. People just watch the film and just take it as it comes.
Do you find that a new generation is starting to discover it?
Yeah, and I think we were rebelling against this slightly older generation. The rock 'n' roll Woodstock '60s generation sounded oppressive and boring [to us], and our films are aggressively needling of that. I think we got some pushback from those people, who, for their part, hated disco. They hated that, and so I think it's better received by not my generation.
I remember talking to Chris Eigeman about this — while the film itself is about the end of the disco era, it seems "Last Days of Disco" was one of the last features made during an era in New York where the films felt more like get-togethers rather than formal productions. Do you think we will ever see a return to that era?
It's possible that we'll be recovering that feeling. Maybe indie film got too big for its britches commercially and started being done the way other films are done, very much focused on casting and attempts at pre-sales. The whole thing has kind of collapsed, so people who want to do their own films their own way have to scale back their budget aspirations and maybe their subject aspirations and just do it the way they were in the '80s. If you want to be an independent filmmaker and keep on doing it, you have to go without money for yourself and for your budget.
Are you excited for the dance party at Lincoln Center?
[laughs] Yes, I'm always excited for dance parties that I get invited to.
"The Last Days of Disco" will be available on DVD on August 25th.