Where are all the big stars? Documentaries.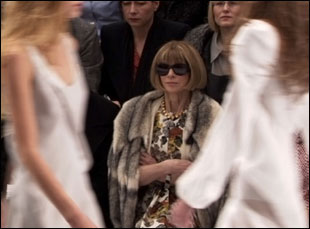 Posted by Stephen Saito on
Last week, there was plenty of attention given to the fall of the Hollywood star system, but there is one realm of filmmaking that seems to be unquestionably benefiting from marquee attractions — documentaries.
While others ponder the value of Julia Roberts and Russell Crowe in this day and age, the doc world is gearing up for a fall loaded with stars… from other fields. It's a trend that actually started earlier this year with the release of "Valentino: The Last Emperor," the Matt Tyrnauer doc about the Italian fashion designer that's been going strong theatrically since March, even though the film has now hit DVD. This week, another fashion icon makes her screen debut — not counting "The Devil Wears Prada" — as you might've picked up from her appearance on David Letterman Monday night:
Getting Anna Wintour to take off her signature sunglasses might be considered an achievement on its own, but there's no denying that R.J. Cutler's doc "The September Issue," about the publication of Vogue's most ballyhooed annual edition, got the kind of publicity that eludes most nonfiction films. And it's not alone in terms of star-driven docs. Besides new films from rock star documentarians Joe Berlinger ("Crude" on 9/9) and Michael Moore ("Capitalism: A Love Story" on 9/23) in upcoming weeks, "It Might Get Loud," a film featuring actual rock stars Jimmy Page, Jack White and the Edge, has done well in a limited release. Then there's LeBron James, who'll be landing in the only place he'll appear taller than he does in person with "More Than a Game," a doc that chronicles the highs and lows of his high school basketball team as they compete for a national championship.
Although "More Than a Game" doesn't open until October 2nd, it's currently playing an under-the-radar Oscar-qualifying run at a dollar theater in Pasadena, CA (along with Lionsgate's other upcoming sports doc "Facing Ali") where James' star appeal actually attracted an audience for an afternoon show with no advertising at all and a higher price of admission. Sure, it's an easy hook, but the reception at both the film's recent premiere in James' native Akron, Ohio and at this year's opening night of Silverdocs suggests, as "The September Issue" does, that documentaries may get some well-deserved attention soon — and that the recently relocated Cinema Eye Honors may need to dust off their red carpet.
[Photo: "The September Issue," Roadside Attractions, 2009]