What people know when they say they know movies.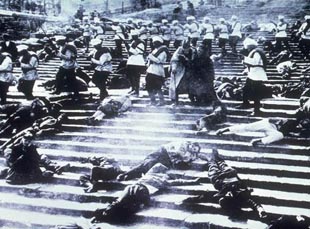 Posted by Vadim Rizov on
Our friends at Time Out New York have whipped up a neat little alt-canon of 25 films most people wouldn't think of as essential to cinematic knowledge in the way of "Citizen Kane" or "Battleship Potemkin" but which, according to them, should be.
Now, I applaud the TONY crew for digging deep into their personal loves and not pandering one bit: on their list, relatively well-known fare like "Barry Lyndon" rubs shoulders with rarities like Mikio Naruse's 1964 "Yearning." But mostly the alt-canon got me thinking about how dreary the idea of "canon" can be as a selection of the Movies That Changed Cinema Forever.
When I was a freshman at NYU's film school, I took the mandatory "Language of Film" class, which is supposed to teach you how to watch and analyze films; in practice, it's more a crash course in film history tailored to the taste of whomever is teaching it. My own professor had a heavy interest in marginalized and minority filmmaking, but before she reveled in "Smoke Signals," she felt obligated to rush through the big stuff — in one night. In one of the most joyless sequences of clips I've ever seen, two hours was enough to show "Potemkin"'s Odessa Steps sequence, key bits of "The Birth Of A Nation" and so on. This was supposed to be the most important stuff in film history, but she was treating it like an encumbrance to getting to what she really cared about.
Even as recently as 20 years ago, it was conceivable that if you started watching movies diligently and regularly, you might someday have seen all of the standard, accepted parts of what most would consider "the canon." (Which some of the titles on TONY's list would definitely qualify as, in my opinion: Tarkovsky's "The Mirror," Bresson's "Mouchette.")
But that's no longer the case: like English majors, film buffs now have to pick and choose their area of interest. And that's what I dig about the idea of an alt-canon: it expands possibilities and shows how you decide on your own hallmarks of film — a nudge that says just because you've seen "The Godfather" and "Psycho" doesn't mean you've even gotten started.
[Photo: "The Battleship Potemkin," 1925]