Video Premiere: Windmill's "Big Boom"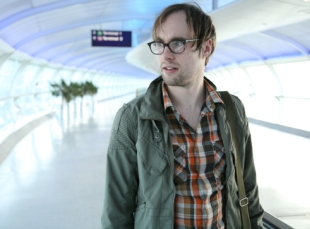 Posted by Brandon Kim on
Windmill's Matthew Thomas Dillon was so struck by a visit to the EPCOT center as a child that he's gone and mined the memories of it from his cosmic noggin for the basis of his second album "Epcot Starfields," due out September 15th. I too love and relate to the heavy impact the place has on your world view as a child (just minus the talent to make music about it).
We've got a first look at the video for the lead single off the album, "Big Boom" right here. And I interrogated director Rupert Noble (who's shot videos for Bat For Lashes, Stereolab and Dirty Three, amongst many others) about it below!
What's going on here in a larger, conceptual sense, or is this a typical day in the UK for you guys?
Overall it's about the elation. The euphoria of the song got me initially, so a celebratory "American" style but quintessentially British suburban parade seemed bang on…and set within the time frame, a 60s suburban location, a space-race astronaut. This was the ticket! I suppose Matt wanted to supply the notion of oneness without religious connotation. Yes just another day at the office for me!
Was Matthew just lounging in that space suit that day or was that your doing?
Matt has character ideas and wants to run with them. For example in the "Fit" video he decided to be "rocky" for the day. I was horrified that time, especially as my dad had worked with Stallone on "First Blood!!" But that vid really worked!
So this time, Matt wanting to appear as a benevolent, all embracing spaceman, I just shrugged my shoulders and went for it. I let artists breathe conceptually within the frame of their own videos… but obviously on one of the hottest days of the year, there was not much chance of any breathing in a NASA spacesuit!
With what appears to be many random people and factors, what wasn't part of your plan?
The only plan was the flag parade which was choreographed. The rest was a case of – let's drop the spaceman into various locations and see how people react. I had spotted there was a medieval battle re-enactment going on nearby and it was a case of "hmmm what if…?"
Matt was fantastic and was able to pull great reactions from everyone we met… there was never a moment of "twat in a spacesuit," people totally warmed to him.
The craziest moment was the spaceman stealing a mobility scooter. At the battle re-enactment — spaceman/battle re-enactment/mobility scooter/stealing – these words should not appear in the same sentence! The full footage of that event is one of the funniest moments of my life… but one of those "had to be there's."
Who the hell taught him to dance?! I guess he was sweating balls in there huh?
I gave him a few pointers… but, otherwise he was like clockwork. I gave him the scenes, wound him up, shouted a bit and let him go!!