Venice embraces 3-D, the Jonas Brothers.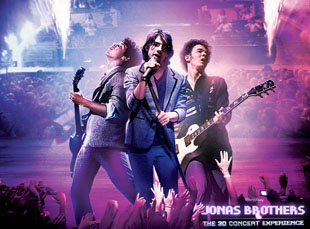 Posted by Vadim Rizov on
The 66th annual Venice Film Festival, which runs from September 2-12, has some undeniably awesome premieres in its line-up, with new films from Fatih Akin and Claire Denis, George Romero's latest zombie movie, and, most importantly, Werner Herzog's "Bad Lieutenant: Port Of Call New Orleans." (Revisit the woozy trailer here.) But what the film world, or at least the very small portion of the film world who can afford to travel to Venice these days, really should be concerned about is: Will the Jonas Brothers pull of the Persol Award?
You know, the brand new Persol 3-D Award, the festival's attempt "to embrace the wave of innovative 3-D film-making as well as the returned focus of watching films in traditional cinema settings" while grasping at those last straws of relevance. Nine films are competing for the inaugural award, which according to the festival will go to "the feature film which at best embodies the exploration of this new frontier of the cinematic language."
The bright side is that Joe Dante's new horror film "The Hole" will be premiering at the festival. The dark side is that it'll be competing against stuff like "Jonas Brothers: The 3D Concert Experience" and "Ice Age: Dawn Of The Dinosaurs." Pretty much every movie released in 3-D in the past year — going back to last summer's "Monsters Versus Aliens" — is represented, and, as one Manny The Movie Guy points out, they're all American productions, which speaks volumes about the expense of what the Venice press release, parroting the studio party line, is calling "a 'third cinematic revolution' (after those of sound and colour)."
It's possible to believe 3-D is the way of the future: the perfectly legitimate "Coraline" and "Up" are in contention. But I can personally verify that there's zero legitimate case for "Battle For Terra" and "Ice Age: Dawn Of The Dinosaurs", and there's more where that came from. Even as commercial promotion — Persol's famous for their glasses, which Marcello Mastroianni wore throughout "La Dolce Vita," but I guess they could make a case for the importance of perfect vision for cinema's Third Frontier — this seems nakedly embarrassing. The jury for this competition includes both the LA Weekly's Scott Foundas and the New York Times' Dave Kehr, which is like getting the Michelin restaurant reviewers to judge new fast-food franchise burgers.
But maybe that's just me. I've heard nice things about "My Bloody Valentine 3D." Maybe it will finally receive its rightful recognition at Venice.
In related news, Joe Bowman's round-up of posters for Venice and Toronto movies is pretty neat.