"Up In The Air" could be this decade's "Fight Club."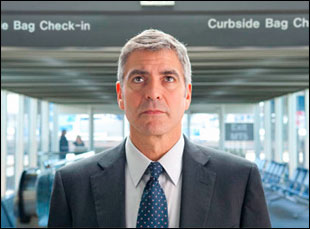 Posted by Vadim Rizov on
Stills from "Up in the Air," the new film from Jason "Juno" Reitman, have been gathered over at the Playlist, and while I'm not usually into the tea-leaf reading that occurs when an anticipated upcoming movie releases things like this, I'll take any excuse to write about an adaptation I've been anticipating for almost a decade — one whose meaning has almost completely shifted.
Walter Kirn's novel "Up in the Air" dropped in the summer of 2001, a more innocent age, to high sales and acclaim. It follows Ryan Bingham, "career transition counselor" (he fires people) and air-travel veteran, who waxes poetic about every aspect of his nomadic existence, the overwhelming sameness of hotel rooms, the miles and the artificial normality of travel. Kirn's great zeitgeist contribution was the term "AirWorld," denoting the sheer interchangeability of layouts no matter where you are in the airport system (a term promptly jacked by journalists reporting from extended sojourns inside). Bingham loves it, at least until he wonders if the system is trying to kill him; up to that point, he's a lot like "Fight Club"'s unnamed narrator, going on about "single-serving friends" but never wanting to leave.
But times, they have changed. In a (currently) print-only part of Entertainment Weekly's fall preview that the Playlist quotes, Reitman notes that between he started writing the scenes of Bingham's job and filming them, any potential for playing the scenes for laugh faded. "I realized that wasn't funny anymore," Reitman explained, "and the film took on more dramatic tones."
In Daniel Bell's 1976 book "The Cultural Contradictions of Capitalism," the author tries to explain how the world's most successful capitalist society produced so many dirty '60s hippies. It's the result, he claims, of too much success allowing for too much time for doubt in that success — it "undercut the beliefs and legitimations that sanctioned work and reward in American society." In other words, Tyler Durden isn't mindless capitalism's casualty; he's its logical end product. Too much success breeds too many people wondering how they got there, and if they deserve it.
Kirn's Ryan Bingham was meant to be taken the same way — he only became self-aware after he was financially successful enough to have the luxury to think about why he was who he was. But whatever "Up in the Air" the movie turns out to be (and considering Reitman doesn't have the directorial chops of David Fincher), it can't possibly be a straight adaptation without seeming deliberately inappropriate; it'll be a flashback to ten years ago, when success meant — at least for authors — automatic self-questioning. Today's harried work-force can't afford to beat itself up over being part of the beast.
If the characters in "Fight Club" could afford to fantasize about destroying banks/credit forever — and seem semi-understandable for doing so — a novel that's aged only eight years will have to translate itself radically to explain why a corporate head-cutter has the time to question himself rather than simply hanging on, desperately, to his own job. (Reitman should just cut his losses and put a "2001" title card at the beginning, honestly.) But that could be great — "Up In The Air" could transform itself from a satire on business travel to a eulogy for the same, a meditation on what it means to hang on to the most despicable of jobs in desperate times while remembering how low-stakes it used to be.
Or it could just be another quirky dramedy. We shall see.
[Photo: George Clooney in "Up in the Air," DreamWorks Pictures, 2009]