"Transformers 2" M&Ms will corrupt your children.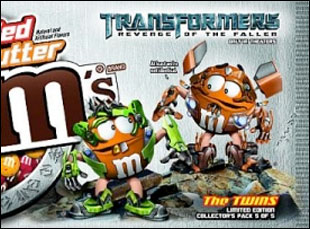 Posted by Vadim Rizov on
Long ago, when the ratings system was new, its standards wouldn't necessarily make a whole lot of sense to today's zealous parents. In 1968, "Planet of The Apes," was a G movie, and in 1976 "The Bad News Bears" was PG — alleged family fare with enough beer consumption and racial tension to make Paul Haggis blush.
Over the years, parents got pickier; mild profanity got elided from the "G," and the gap between "PG" and "R" got too broad. After "Gremlins" and "Indiana Jones and the Temple of Doom" came out in 1984, scaring the holy crap out of kids and angering their folks, "PG-13" came along. And then parents never complained about ratings ever again, because they finally had enough information to make good judgments about what was appropriate for their children.
Nah, just kidding. Maybe it's a cliché to say that today's parents are overly over-protective, but it rings too true when an organization like the Campaign for a Commercial-Free Childhood comes along. The CCFC is all about new ways to give parents more control over TV (besides, like, being in the room and watching it with their kids). Today — as Current's Matthew Lasar notes — the CCFC is annoyed because TV ads for PG-13 movies are being aired during Nickelodeon and Disney shows, "targeting children as young as preschoolers."
How to fix this? The CCFC would like a new V-chip-like device to filter those wicked PG-13ish spots out, so that mature, adult fare like "Transformers 2" doesn't tempt their kids. "A 2004 study found strong evidence of 'ratings creep,'" the CCFC's scoldy response to the FCC notes. "A PG-13 movie in 2003 was likely to have significantly more violence and sexual content than a PG-13 movie ten years earlier. In other words, many of the PG-13 films that are routinely marketed today to children as young as seven-and often marketed to preschoolers-are films that would have been rated R fifteen years ago."
That's ahistorical nonsense, but whatever. Current's Lasar is right to be confused about what the big deal is: "One wonders what bad behaviors these films might inspire in Junior. [We] can see him having a go at dad's old eight-track player or scrapped lawn mower; not a lot else." Sure. And that goes for "Star Trek" or "Iron Man," other movies that seem to keep the CCFA up at night, according to their report. All have their moments of mild sexuality and plenty of explosions, but it's hard to imagine that warping a kid.
The CCFA (which, to be fair, decries rampant commercialization across the board) is even concerned about "ads for branded food products such as 'Transformers: Revenge of the Fallen' M&Ms and 'Star Trek' Movie Eggos." Are ratings here to protect children against stuff that would be genuinely destructive? Or just stuff that's loud and designed to turn off your critical impulses? Because anyone who wants to argue "Star Trek" is going to morally cripple the youth of today has their work cut out for them. It seems like PG-13 is becoming less a warning to parents than a guarantee of certain blockbuster staples, which I suppose for blockbuster-hounds could be even more helpful than whatever function the rating's supposed to serve.
[Photo: "Transformers: Revenge of the Fallen" M&M's. Of doom.]