The Sandbox: The Trouble with Cutscenes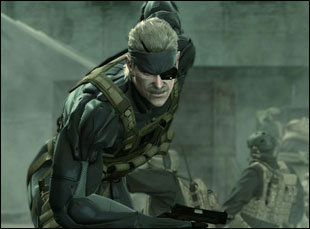 Posted by Nick Schager on
Video games aren't movies, but they sure can be intent on acting like them, most prominently through the scripted sequences known as cutscenes, those insufferable CG-animated interludes that propel stories forward while you wait… and wait… and wait to resume playing. Cutscenes have been around, in at least some rudimentary form, since the dawn of games, and they're not all bad — the quick between-level vignettes of the NES' "Ninja Gaiden," for example, were so thrilling to me as a kid that just thinking about them elicits a pang of sweet nostalgia. But as graphics have improved and games have tried to elevate themselves to a cultural plane equal to that of film, these intermission sequences have become hair-tearingly inescapable. They've become a pox on mainstream gaming, providing style without substance, and forcing the mechanisms of one medium onto another.
This desire to be "cinematic" is, as even gaming fan Steven Spielberg recognizes, a fundamentally misguided one, since what distinguishes video games from films is their interactivity. When a game takes a breather from its primary action to present narrative and character-building intermissions over which a player has no control, it betrays the very nature of games. In other words — I play games to play them, not to watch them.
Nothing sabotages your immersion in a game faster than being denied the ability to have a say, however superficial, over what's going on. Cutscenes throw in your face the fact that games are authored and constructed — and of course they are, but that's a truth that's deliberately masked by their interactive elements. Cutscenes often come at pivotal moments in the story, usually featuring graphics and action jarringly superior to those found in the in-game action, and frequently can't be skipped. They're a reminder that all of that gameplay just strings along between these unavoidable milestones in the narrative, undercutting the very I'm-in-charge fantasies all of the role-playing sagas, first-person shooters and survival horror thrillers that use cutscenes aim to create.
When it comes to cutscenes, there are countless culprits in overindulgence, though if there's a king of the hill, it's 2008's "Metal Gear Solid 4: Guns of the Patriots," the latest iteration of a series whose creator, Hideo Kojima, helped usher in the modern age of prolonged cinematics. "MGS4" has hours of cutscenes, all of them beautifully rendered to resemble a high-tech summer blockbuster, complete with dramatic confrontations, large-scale firefights and enough death-defying, superhuman martial arts action to fill out multiple feature-length films.
On a purely technical level, they're phenomenal. In every other respect, though, they're abysmal, and help ruin what's an otherwise superb entry in the long-standing stealth series. "MGS4″'s cutscenes laughably halt the momentum of its own gaming experience by asking players to put down the controller and passively sit and stare for 20 minutes at a time. Isn't that exactly the opposite of what games are supposed to do? Because of that, slogging through "MGS4" requires the patience of a saint — or, at least, interest in a title where the action comes in fits and starts, and takes a backseat to its author's CG-filmmaking aspirations.
"MGS4" is the most egregious example of games' misbegotten belief that they should imitate films by way of extended pauses in the action. And its narrative-only portions are made worse by some pretentious, overwrought scripting. The game's story involves super-spy Solid Snake's efforts to thwart a madman intent on taking over the world by using private military contractors injected with nanomachines, a premise that leads to more speechifying about the nature of war, the burdens of heroism and the dangers of the military industrial complex than can be found in ten award-season message movies.