The Terrible Twos: Five Legitimately Scary Horror Sequels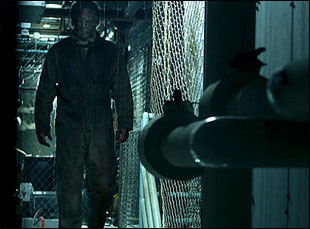 Posted by Matt Singer on
This week at the movie theater you have your choice of two different horror movie sequels: Rob Zombie's second film of a rebooted "Halloween" franchise (technically the tenth in the series) and a fourth "Final Destination" picture about teenagers caught in Rube Goldbergian death traps, with this one in 3-D and featuring the appealing conclusive title, "The Final Destination."
Horror sequels are usually profitable, but rarely interesting. The element of surprise is a crucial part of horror movies, and it's awfully tough for any sequel, much less one for a horror movie, to surprise us. Unlike sequels for other genres, horror movies tend to kill off their characters, which means all the people we cared about from the first movie are gone by the second, and only the monster remains. That leads to a lot of soulless, violence-driven rehashes — the same movie with a new cast and a new number tacked onto the end of the title. Meanwhile, the need to outdo yourself means each new installment has to be gorier and crazier than the last, an arms race of spookiness.
That said, if there's anything that gives us hope for movies like "Halloween II" and "The Final Destination," it's sequels like the five that follow, which took their predecessors as inspirations instead of mere blueprints. Let's hope this week's crop are good enough to join this list. As you'll see, the director of one of these movies has already done it before.
"Aliens" (1986)
Directed by James Cameron
Here is a sequel that works because its director, James Cameron, saw the creative potential in a movie that existed beyond the first film's formula. In an interview on the "Aliens" DVD, Cameron says, "For all the negatives involved in making a sequel, you have positives, and one of the positives is if you can take that initial programming that the audience has… and do little twists and turns on it, [you can] play against their expectation of what's going to happen." So, instead of one alien, there's a whole planet. Instead of a bunch of frightened miners, there's a platoon of highly trained, heavily equipped soldiers. Naturally, the xenomorphs still go through them like crap through a goose. And if just one of H.R. Giger's aliens is terrifying, then hundreds of them effortlessly wiping out a dozen or so of our planet's best fighters is enough to give anyone nightmares.
It's an attempt to remove those sorts of bad dreams that convinces Ellen Ripley (Sigourney Weaver) to head back to the planet where her crew first discovered the aliens. The scenario is given extra psychological impact by the clever parallels Cameron draws between his story and the Vietnam War; the aliens represent the Viet Cong, who defeat the Colonial Marines, or Americans, despite the latter's far superior technology. The film has a happy ending of sorts, with Ripley telling a child she's rescued on the planet that they're free to dream peacefully again. But as anyone who's tried to fall asleep after seeing the movie can attest, that is easier said than done.
"Dawn of the Dead" (1978)
Directed by George A. Romero
George A. Romero resisted making a sequel to his "Night of the Living Dead" for almost a decade until he had something to say. "We really do become zombies in there," Romero told the BBC about American shopping malls, and he brought his signature animated corpses to a mall near Pittsburgh to recreate what he saw as our "ritualistic, unnatural consuming experience." Beyond its brutal capitalistic critique, the film remains particularly scary for the realistically bleak depiction of society's swift collapse in the face of a zombie plague. Our heroes survive by barricading themselves in an abandoned mall, even relishing its easy creature comforts for a time. But while they're ensconced in plastic luxury, outside those insulated walls, the rest of the country is going to hell.
Romero's movie didn't stop the mallification of America, but he certainly made fans think twice about hanging out there, and his blend of social commentary and inhuman horror made "Dawn" just as influential as its predecessor; it remains one of the few sequels of any genre well-loved enough to receive its own distinct remake (2004's faithful yet clever version by Zack Snyder). Romero shot his movie inside a working mall in Monroeville, PA, which lent a valuable sense of authenticity to its inauthentic setting. The crew shot nights so that the mall could reopen for business each day. At dawn, no doubt.