The Sandbox: The Case for Remaking Games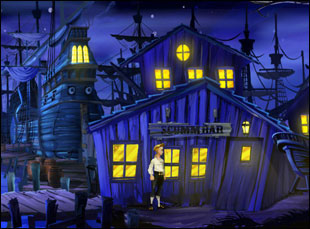 Posted by Nick Schager on
As a kid, point-and-click PC adventure games were my be-all and end-all. Sierra, in particular, with their almost uniformly awesome "Quest" titles ("King's Quest," "Space Quest," "Police Quest"), and their bawdy "Leisure Suit Larry" series, held a prime spot in my heart. I awaited their every new release with baited breath and consumed them with a fervor that led me, on more than one occasion, to secretly spend my parents' hard-earned cash on Sierra's 1-900 automated hint lines.
Sierra's genre adventures were the standard by which I judged all other games, but in 1990, that benchmark was not only met but surpassed by "The Secret of Monkey Island," a LucasArts romp cast in a Sierra mold but steeped with a liveliness and rollicking humor that struck me as revolutionary. 19 years later, the game remains an all-time great, which is why it was with great anticipation — and more than a bit of hesitation — that I awaited last month's "The Secret of Monkey Island: Special Edition," a remake of the classic game for the PC, Xbox Live and the iPhone.
"Monkey Island" is a tongue-in-cheek pirate yarn starring Guybrush Threepwood, a wannabe swashbuckler whose name is constantly mocked. You controll him by pointing and clicking a cursor — dialogue is presented through text, and interaction is accomplished by way of a table of verbs (Open, Pick Up, Pull, etc.) and an inventory menu. It's all very 1990, which is why a remake seemed such a tricky endeavor.
But it turns out that LucasArts' "Special Edition" is a remake in only the loosest sense of the word. Despite featuring superbly enhanced graphics, a remastered score and an excellent voice cast, the game is a virtual shot-for-shot do-over that diligently mirrors its source material in terms of character models, script, even screen compositions. Fidelity is the guiding principle, to the point that, at any moment during gameplay, you can switch back to the 256-colored, MIDI-scored original version with no transitional hiccups. It is, for all its cosmetic changes, the exact same game — the equivalent, if you will, to Gus Van Sant's 1998 "Psycho" remake/recreation.
When it comes to movie remakes, I tend to fall on the skeptical side of the aisle. It seems to me a far better idea to stick to remaking flawed films that featured a few inspired ideas than to freshen up classic films that really need no further maintenance. When Hollywood remakes "The Pink Panther" or "The Texas Chainsaw Massacre" (or, as opening this week, "Halloween II"), it does so less because those films required major tinkering than because such redos require less creative inspiration (why bother coming up with new ideas when there are proven ones just lying around?) and are easier to sell to a public already familiar with and fond of the original.
But in the video game realm, the role of technology makes the remake a very difference issue. Revisiting old games (provided you even have access to the aged console or PC hardware needed to do so) means struggling through antediluvian graphics and gameplay mechanics that — to anyone now familiar with modern games — can turn out to be an impassable barrier to enjoyment. So updating classic games with modern techno-amenities seems like a natural way to correct inherent limitations of the time they were made while retaining the core qualities that made the games great in the first place.
Still, the question of how far a game remake should go remains a prickly question. While the faithfulness of "Monkey Island" guarantees that fanboys won't revolt, it also — by retaining an archaic gameplay system — likely limits the game's appeal to the nostalgic.
Striking a balance isn't impossible, as a few other modern remakes have proven. The cream of this crop is "Tomb Raider Anniversary," a 2007 PS2 reimagining of the iconic PlayStation title created for the series' ten-year mark. Despite being largely ignored by a gaming community that had moved on to fancy new next-gen platforms, "Anniversary" is a near-perfect remake, retaining not only the look but the feel of the Lara Croft-headlined original while utilizing modern aesthetics and, more importantly, gameplay elements from some of the franchise's sequels. "Anniversary" marries the old with the new to ideal effect.
In most successful game remakes, the recipe remains the same: hew close to the original's template while incorporating the tech advances that have since been made. Nintendo has especially benefited from the classic game revisit, thanks to the GameCube's "Resident Evil" and "Metal Gear Solid: The Twin Snakes" and the Game Boy Advance's "Metroid: Zero Mission," all three of which smartly expand upon their predecessors. But no console has been immune to the craze, and smart remakes of classics have appeared on all horizons, from 2005's "Conker: Live & Reloaded" (Xbox) to 2007's "Prince of Persia Classic" (Xbox Live and PlayStation Network) to last year's "Super Street Fighter II Turbo HD Remix" (Xbox Live).
There are far more than simply crass cash grabs. All of these games use contemporary tools to lovingly perk up titles now hampered by technologically outdated (and perhaps creatively lacking) forms. It's a remarkable difference between video game remakes and their cash-grab cinematic counterparts, if one that — for all its charms — the beautifully refurbished but essentially unchanged "Monkey Island: Special Edition" fails to uncover.
The Sandbox, a column about the intersection of film and gaming, runs biweekly.