The mentally ill are either saints or devils.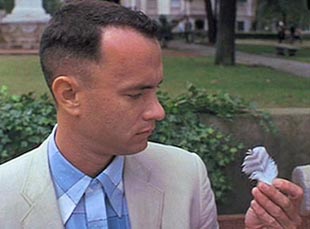 Posted by Vadim Rizov on
There's a long, annoying sub-genre of movies in which we learn that people who are "insane" are actually "saner" than "normal" people. You can trace it back to 1967's "King of Hearts," in which soldier Alan Bates is forced to hide out in a mental asylum, where he grows as a human being, learns that War Is Bad and falls in love. It's too bad that the new report from British mental health nonprofit Mind — in partnership with Rethink, another charity — passes up a chance to take on these twee, sub-"One Flew Over The Cuckoo's Nest" stereotypes. Instead, it tries to take on negative images of mental illness.
In "Screening Madness," the groups — led by Dr. Peter Byrne, who "has programmed five mental health film festivals" — drop some truth-bombs. In a survey better described in the Telegraph than the actual report, 1,989 people found 49% of people had seen some kind of mentally ill person on screen, and 44% therefore firmly believed the mentally ill are more prone to violence.
Fair enough. The rest of the report is a lot shakier. "One in four of us has or will develop a mental health problem in our lifetime," it scolds; the number's taken from a pan-European study with broad, arguable definitions including gambling and alcohol addictions — things most people think are bad but don't generally think of as "mad." Which seems disingenuous: If most people don't confuse gambling with violence, why write a report pretending most people would slot gambling and psychosis under the same category, regardless of how they're technically classified?
A chart categorizes which objectionable category various movies come under; while it seems to be an honest mistake that "Shine" is listed both under "Comedy" and "Pity," it's a bit much to include both "Hamlet" and "King Lear" under "Faking & Indulgent," as if Shakespeare's point was that it's easy to outwit people once you pretend to go nuts.
David Cox at the Guardian is not having it. He point out how many filmmakers are still in thrall to the old "King of Hearts" idea, not to mention how "bipolar disorder tends to entail ethereal genius and/or a beautiful soul." And he raises a point of omission: the report ignore insulting exercises in Learning From The Insane like "Forrest Gump" or a movie like "Away From Her" — where dementia becomes a springboard for "poetic" reflections on the Nature of Memory. When whining about negative stereotypes and how they make films more clichéd than they should be, you can't ignore that the positive stereotypes are at least as irresponsible.
Cox also manages to dig up a much older and wackier item in Psychiatrists Scolding The Movies. Shrink Carole Lieberman's 1990 LA Times op-ed was written when the MPAA was parading out NC-17, and it's at least as overheated. "Only in our male-dominated society and entertainment industry would films be rated more harshly for sex, not violence," she writes. "Men feel more uncomfortable about sex scenes than violent ones because sex scenes evoke men's unconscious conflicts, including castration anxiety, homophobia, fears of inadequacy and impotence. Violent scenes, on the other hand, enhance men's feelings of power. So whether one wants to attribute it to performance anxiety or testosterone, the male predilection for violence has been affecting the rating system for years." Frankly, I enjoy this explanation far more than the usual spiel about the pathological American history of violence.
[Photo: "Forrest Gump" Paramount Pictures, 1994]