The Five Worst Films Based on Comedy Sketches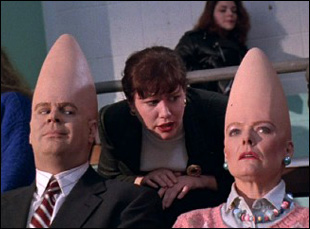 Posted by Nick Schager on
When it comes to the family of films based on comedy sketches, "Saturday Night Live" is Don Corleone, though in terms of quality, a more apt analogy might be Fredo, as the venerable late-night staple is responsible for some of the most inept cinematic yukfests of the past two decades. In the '90s alone, a slew of spin-offs helped expand the show's brand to movie theaters with negative results, with the movies often so awful that the show's once-unimpeachable status as a comedy innovator slowly gave way to a new reputation as a program dedicated to creating recurring characters fit for lame celluloid treatment. As the only comedy show on TV with the clout to get its gossamer-thin bits blown up for the big-screen, "SNL" naturally dominates our roundup of the worst sketches turned into films, though Lorne Michaels can take minor solace from the fact that the one non-"SNL" film to make this dubious list stars a comedian who wouldn't be appearing "Live from New York" until some years after its production. [You can find a list of the best films based on comedy sketches here.]
"Coneheads" (1993)
Perhaps the only thing less enticing than a film based on a lame "SNL" sketch is one based on a lame old "SNL" sketch. Enter "Coneheads," an 88-minute saga starring Dan Aykroyd and Jane Curtin's pointy-headed alien clan. Unlike many of their "SNL" brethren, the Coneheads' culture-clash weirdness makes them reasonable candidates for a movie, and their feature debut certainly doesn't lack for stars, featuring more cameos from the show's past and present (including Adam Sandler, Phil Hartman, Jon Lovitz, Chris Farley, Garrett Morris and Kevin Nealon) than any of its sketch-to-film compatriots. Yet despite such factors working in its favor, "Coneheads" is another in a long line of elongated sketches that mistake bigger scope and scale for bigger laughs, piling on special effects and set-pieces with a gusto that would have been far better directed towards making use of the uniformly wasted comedy talent onhand.
"It's Pat: The Movie" (1995)
A one-note joke that could be reconfigured in endless (though rarely amusing) ways, Julia Sweeney's androgynous Pat was perhaps the definitive '90s "SNL" character, which in turn made him/her wholly unfit to sustain a feature-length film. Unsurprisingly, then, "It's Pat: The Movie" is more or less unwatchable. Providing slightly more context and more elaborate dramatic circumstances for a cipher incapable of properly sustaining either, Adam Bernstein's film gives Pat a similarly he-she love interest ("The Kids in the Hall"'s Dave Foley) and an acquaintance driven mad by his/her sexual ambiguity, but nonetheless hews so closely to its sketch's bedrock premise – Pat says and does stuff that almost, but never completely, identifies his/her gender – that inertia quickly sets in. Only released in three cities before flopping its way onto video, "It's Pat" remains the preeminent model of "SNL" film ignominy, and of interest only to fans of the cameo-ing alt-rock band Ween.
"Good Burger" (1997)
Based on a recurring sketch from Nickelodeon's "All That," "Good Burger" isn't just unfunny, it's unfunny with the kind of lethargy that generally follows eating fast food. Starring Kenan Thompson and Kel Mitchell, the stars of "All That" and future headliners of their own sketch comedy show "Kenan & Kel," Brian Robbins' kids' flick rests squarely on the shoulders of its young leads, who have the kind of comfortable, jokey rapport that should translate into actual humor. Alas, there's next to nothing to smile about during this distended skit, from Sinbad in an egregiously goofy '70s afro to Abe Vigoda (yes, the Abe Vigoda) as the titular burger joint's decrepit French fry fryer who – perhaps in a twist meant to subtly mirror Vigoda's own decision-making faculties – winds up in a mental hospital. "Good Burger" is, in fact, so cruddy, it should have been obvious at the time that at least one of its stars – Kenan Thompson, it turns out – would eventually be recruited by Lorne Michaels for "SNL."