The Five Best Films Based on Comedy Sketches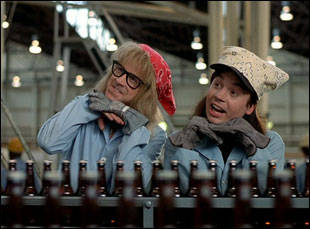 Posted by Nick Schager on
Stretching a brief comedy sketch into an 80-plus minute feature is not a task for the timid, as the process of fleshing out quick, self-contained bits is rife with inherent risks — the two main ones being that such an endeavor usually makes little sense and can spoil the original joke. Yet despite these pitfalls, a select few have succeeded where so many others fail, managing to retain the core aspects of their source material while creating developed narratives that expand upon their original conceits in ways that are smart and silly. While only two of the below five might actually qualify as "classic" (though feel free to argue otherwise), our choices for the five best films born from TV sketches all show a willingness to push boundaries and indulge in random flights of fancy in the service of goofy humor, a daring that can be attributed to inspired comedians recognizing, and cannily playing to, the strengths of their signature characters. [The five worst films based on comedy sketches can be found here.]
"Wayne's World" (1992)
The most profitable "SNL" spin-off to date (a title that the forthcoming "MacGruber" film should find difficult to wrestle away unless its title character can create $121 million from whole cloth), "Wayne's World" can credit much of its success to the film's canny scripting, which stays true to its characters' slacker-catchphrase essence via a conventional fame-corrupts-rock 'n' roll narrative. Following the improbable rise to stardom of cable access TV doofuses Wayne (Mike Myers) and Garth (Dana Carvey), the film – helmed by rock expert Penelope Spheeris, she of "The Decline of Western Civilization I" and "II" – delivers the duo's every trademark quip but, more crucially, couches its familiar elements in a story of selling out that, given Wayne and Garth's fondness for all things loud and metal-y, makes ideal sense. Some of its familiar jokes have aged better than others – on the negative side, "Shwing!"; on the positive side, "That's what she said" – but the "anything goes" energy of "Wayne's World" remains endearing, and helped pave the way for both Myers' subsequent "Austin Powers" larks as well as the absurdist works of Will Ferrell.
"The Blues Brothers" (1980)
The finest "Saturday Night Live" sketch yet to hit the silver screen, "The Blues Brothers" has a hook that few other sketches did — music. By being both comedic characters and actual, semi-serious performers, John Belushi and Dan Aykroyd's Jake and Elwood Blues are conceived in two dimensions rather than sketch comedy characters' typical one, though the success of their big-screen venture also has much to do with the fact that the Blues aren't simply built around a single, oft-repeated punchline. Further aiding their cinematic cause is John Landis, whose staging of numerous, full-throttle car chases strikes the right balance between thrilling and ridiculous, as well as a gaggle of cameos from R&B stars (James Brown, Ray Charles, Aretha Franklin) that both legitimize the protagonists' musical reputations and imbue the proceedings with actual soul. While some might argue that Carrie Fisher is far less funny than she believes herself to be, "The Blues Brothers" otherwise holds up smashingly, serving as the model by which all other sketch comedy films should be judged.
"Office Space" (1999)
Few think of Mike Judge's cult classic as a film based on a sketch, but that's likely because they – along with many, many others – stopped watching "Saturday Night Live" during its weak mid-'90s period. Nonetheless, the origins of Judge's scathingly pinpoint workplace comedy are a series of "SNL" cartoons based around Milton, the weird, anti-social cubicle jockey played in the film by Stephen Root, and his insufferable slow-talking boss Bill Lumbergh, iconically embodied in the film by Gary Cole. In giving his cartoon the feature treatment, Judge takes the unconventional route by placing his central character on the periphery and focusing the action around new characters, though the real subject of his film aren't the people, but the office itself – the rows of identical walled-off desks, the frustrating communal fax and copiers, the unbalanced and tense employer/employee dynamics. As its continued relevance and popularity proves, it's a petty, enervating, soul-crushing setting about which Judge knows plenty.