The fine art of YouTube curation and hypemanship.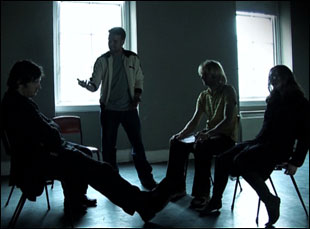 Posted by Vadim Rizov on
Killian Fox's Observer article about the current state of up-and-coming UK filmmakers is called "Digital: a short cut to the cinema," which makes it sound like a decade-old article just now predicting the rise of digital movies, but don't be fooled. It's a bleak little piece in which Fox profiles four up-and-coming British filmmakers working against the tide of limited opportunities and financing, with the most optimism coming from Film London director Adrian Wootten, who says, "Instead of it being a threatening time, I think this can be a very exciting time for a young British film-maker."
Though Wootten's words ominously sound like being laid off and sent to a career counselor who tells you how lucky you are to have this chance to turn your life around, there have been bright spots emerging from the rubble. I was particularly struck by Zam Salim, who learned how "to make less and less worse films, quietly," thanks to how cheap working digitally can be. Having ducked labs and grants until he was comfortable with his own abilities, Salim struck YouTube gold in 2006 with "Laid Off," a 10-minute short (see below) that worked as a calling card in two ways: with close to 500,000 views, it served as a demonstration of Salim's ability to connect with semi-broad audiences and as an easily identifiable source of material to be blown up into a first feature.
But, government grants and all, if and when the movie gets into production and into theaters, Salim is going to be sharply dismissive of anyone praising "low-budget" ingenuity. "People think it's really funky and fantastic to make films with no money, but who pays for 'low-budget'?," he notes. "People are being constantly asked to do this and the one-off successes start strangely becoming the model for production. That's a bit worrying."
It's all fine and well to do things for love rather than money, but that should stop at the YouTube level. The double-edged sword of YouTube is the stupid thinking that if something can be done on the cheap for 10 minutes, you can do the same thing for nine times as long with very little more money. And that eradicates the whole point of the calling card: instead of moving on up, you're stuck running in place. It eliminates the place for technical professionals you need to keep standards high (unless you're some kind of Shane "Primer" Carruth-level technical savant). It encourages diminished ambitions as the default mode of filmmaking, which is bad news for everyone.
In any case, here's Salim's clever little short, a kind of depressive B-side to Hirokazu Kore-eda's "After Life":
[Photo: A scene from "Laid Off," Zam Salim, 2006]