Quentin Tarantino makes war fun again.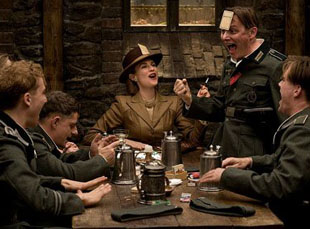 Posted by Vadim Rizov on
Quentin Tarantino's "Inglourious Basterds" comes out next Friday, but the deluge of negative advance press seems to indicate we should be bored already. Quentin! Always with the talking and the self-indulgence and the references. He doesn't make it easy on himself; unlike Wes Anderson, who went from bad-haircut-geek to styled-out, blazer-wearing fashion template in under a decade, Tarantino hasn't learned anything about dealing with the press over his career. He's still prone to telling people what a great writer he is, which never helps. Because "Basterds" has been gestating and promised for an eternity (remember when Adam Sandler was going to star?), it's supposed to be the apotheosis of everything Tarantino's been building to, so really, no matter how it turned out, people were going to be disappointed.
The most intriguing of this week's blitz of Tarantino interviews comes from Kevin Maher at the Times Online, who straight-up asks Tarantino how he feels about the backlash. Tarantino veers from justifiably paranoid (the press at Cannes "said, 'F*** this guy' ") to thoughtful genre critic. Maher wonders if Tarantino's "pop irreverence" might not seem "vapid" next to the traditional WWII film. Tarantino's not having it: "I'm reacting against that attitude, this complete victimisation of the war with the violin music and the anti-war aspect to everything. These self-serious movies have been the deal for the past 20 years, whereas back in the 1940s, when the f***ing war was going on, it wasn't sacrilegious to make a war movie that dared to be entertaining."
Interesting that Tarantino conflates "self-serious" and "anti-war"; "The Dirty Dozen" isn't the former, but it sure is the latter. (It's also a little weird that Tarantino can't seem to acknowledge that movies made during the war were entertaining because they were propaganda, but whatever.) In the same paper, Natalie Haynes loves the movie for making war fun again. "For a war film to be memorable it needs to capture the thrill of war," she declares. "Plenty of us may disapprove of that very idea, but if war weren't thrilling, young men with plenty of other options, such as Prince Harry, wouldn't sign up for active service." The editorial's inane, but she does have a point, when cataloging the list of bad recent Iraq movies as what Tarantino's not doing: He not allegorizing Iraq, he's tackling genre imagery. He's entirely capable of ignoring context.
Maybe it's that evasion of "responsible" war filmmaking that seems to annoy people. Critics took to Paul Verhoeven's "Black Book," which was entertaining and in deliberately bad taste while also being clear with its point about the ambiguities of wartime collaborators. Tarantino's detractors see him as doing the opposite, loving the tropes and nothing else. One thing he's certainly right about: there's 60+ years of WWII imagery to play with, and it's just as much grist to his mill as blaxploitation or kung-fu. And if that means he comes off as an irresponsible warmonger, well, he's not making anti-Iraq movies; he's in Quentin-land, but that doesn't mean he's vapid. He's just not interested in the present.
[Photo: "Inglourious Basterds," Weinstein Co., 2009]