Sylvester Stallone: man of images, man of ideas.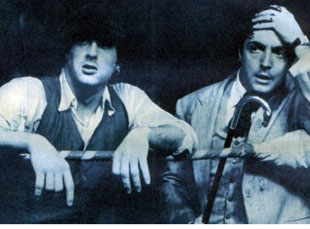 Posted by Vadim Rizov on
Every major festival has its share of commercial pandering and celebrity showboating, from Sundance's swarms of gifting suites to Cannes rolling out its red carpet for "The Da Vinci Code." A few days ago I wrote about how this year the Venice Film Festival has cobbled together a new 3-D film "award" competition from the still scarce titles out there, usefully pitting "Up" against "Journey To The Center Of The Earth 3-D." But really, life can't be all Claire Denis premieres; sometimes, you need the work of a real man. And so I have to salute the world's oldest film festival for their latest announcement, that Sylvester Stallone is set to receive a lifetime achievement award.
Yes, Venice will be present Sly with the "Glory To The Filmmaker Award," the previous recipients of which have been Agnès Varda, Abbas Kiarostami and Takeshi Kitano. (The award's named after one of Kitano's more insane recent films.) And yes, this prize is meant to celebrate Stallone's work behind the camera — as the press release puts it: "Since the visionary race across the roofs on the opening credits of his first film as a screenwriter and director, Paradise Alley, Stallone has shown an original eye and an auteur's determination. His is a cinema capable of tenderness even when dripping with blood."
"Determination" and "original" are double-edged swords, but this does also seem like wording out of a particularly flirty episode of "Inside the Actors Studio." I pulled up the opening scene of "Paradise Alley" to check, and still can't decide if this description is a work of irony or of a sincerity so deranged it's frightening. The opening credits consist largely of Stallone and a friend running across New York's roofs in slow-motion with occasional freeze frames; many of Stallone's most iconic strained facial expressions are present. He sings. The words "Introducing Armand Assante" appear on-screen. Does it contain most of the things people love about Stallone? Absolutely. But, the first "Rocky" aside, they aren't things people traditionally hand out awards for, unless you're talking about the Razzies.
Here's the opening of "Paradise Alley." This will be the best five minutes of your day: