Starting Small: Ten Notable Shorts That Became Features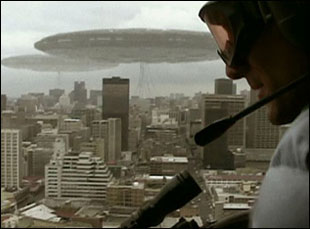 Posted by Stephen Saito on
While some filmmakers spend their entire careers maximizing the succinct pleasures of the short film, others start out by making shorts that they hope will maximize their chances of becoming a feature film director. This week alone will see the feature debuts of two directors who have turned their short films into full-length one — Neill Blomkamp, whose 2005 socially conscious alien invasion tale "Alive in Joburg" has been turned into the Peter Jackson-produced "District 9," and Paul Solet, whose 2006 horror short "Grace," about a mother who refuses to give up on her miscarriage has morphed into a feature of the same name starring Jordan Ladd. Here's a look at ten other notable shorts that got the full feature treatment.
"Bottle Rocket" (1992)
Directed by Wes Anderson
What's another $4,000 after paying private school tuition? That was probably the pitch made by Wes Anderson and Owen Wilson to their fathers, a year after the two met in a playwriting class at the University of Texas at Austin and decided to pen a script together about a trio of unlikely hoodlums. Similar to the clueless would-be criminals they created — Bob (Robert Musgrave), Anthony (Luke Wilson) and Dignan (Owen Wilson) — Anderson and Wilson scored the initial amount of cash that they asked for from their parents, but only wound up shooting eight minutes of 16mm footage before running out of funds. As a result, the Wilsons' father contacted family friend and "Paris, Texas" screenwriter L.M. Kit Carson to see if the kids' work had promise, which led to Carson finding enough money to finance the rest of the 13-minute short, as well as producer Barbara Boyle getting in touch with then-Gracie Films vice president Polly Platt. The short got into Sundance in 1993, and though the unusually rhythmic patter of the characters didn't make much of an impression on audiences in Park City, it got the attention of Platt's boss, James L. Brooks, who would ultimately bankroll the feature — which ironically was rejected by Sundance, though there's no question who got the last laugh.
So What's Different? Beyond an expansion of the plot, not a whole lot is different except for a jazzier score and that it's shot in black-and-white.
"Sin City" (2005)
Directed by Robert Rodriguez and Frank Miller
While it was never technically released as a short, Robert Rodriguez's adaptation of Frank Miller's graphic novel never would've happened without the film's opening scene, which was made long before production started on the feature. That was partly because Rodriguez first wanted to get Miller's blessing on the project, and figured there was no better way to do so than to show him some footage. So Rodriguez called up his "Faculty" star Josh Hartnett to star opposite Marley Shelton in an adaptation of Miller's "The Customer is Always Right," in which a monochromatic Hartnett plays an assassin hired to kill Shelton's woman in red. On the film's DVD commentary, Miller relates Rodriguez's invitation to join him in Austin as they shot the scene, saying Rodriguez told him, "We'll see how it works out. The worst possible thing is we'll end up with a cool short little film and part ways. And you know, maybe you'll agree to do this." Ten hours later, the shoot was complete and Rodriguez got Miller's yes. Afterward, the pair used the short to recruit actors for the film by listing their name in the accompanying credits, even if they hadn't agreed to star in it yet.
So What's Different? Not a thing.
"The Dirk Diggler Story" (1988)
Directed by Paul Thomas Anderson
In the October 2008 issue of Esquire, writer John H. Richardson did a fairly exhaustive job of piecing together how a high school senior named Paul Thomas Anderson corralled his friends and family to make what would become the inspiration for his second feature, "Boogie Nights." The gist: with his friend Michael Stein in the lead, Anderson was going to make a mockumentary about the well-endowed porn star Dirk Diggler, based on "Exhausted," the documentary of real-life porn star John Holmes, featuring interviews with Reed Rothchild (later to be played by John C. Reilly) and a pampered porn producer played by character actor Robert Ridgely, who also had a role in the feature. (Ridgely was a friend of Anderson's dad, Ernie, who had a prolific career as a TV announcer and would also lend his voice to his son's short). The short so obsessed Anderson that he used a Diggler quote for his high school yearbook — saying "All I ever wanted was a cool '78 'Vette and a house in the country."
So What's Different? Not as much as you'd think, given that Anderson was only 17 when he made it, though having been shot on video, the short doesn't have Robert Elswit's lush cinematography to convey a certain elegance to the otherwise déclassé subject matter. Though it's crude in other ways as well, the general story remains the same, including Diggler's drug problems and desire to become a musician, though he doesn't survive a fatal overdose in the end.
"Some Folks Call It A Sling Blade" (1994)
Directed by George Hickenlooper
According to Billy Bob Thornton, this 1994 short shouldn't be on this list, since he considers the full-length "Sling Blade" as an extension of a monologue he performed as part of his 1986 one-man play "Swine Before Pearls." But that's a bit of revisionist history, since Thornton and "Some Folks Call It a Sling Blade" director George Hickenlooper had a falling out after production wrapped on the short about a simpleton who gets released from prison. Thornton has rarely discussed it since. In a 1997 interview with the L.A. Times, he said, "I would have been glad to have talked about the short if George hadn't badmouthed me all over town," shortly after he won an Oscar for best screenplay for the feature and MVP Home Entertainment, a video company looking to capitalize on the feature's success, decided to release the short as a standalone video. Before all the bad blood set in, Hickenlooper and Thornton met after Thornton's script for "One False Move" was produced and the director cast Thornton in a small part in the Civil War horror film "Ghost Brigade," followed by a three-day shoot for "Some Folks" in the same Simi Valley hospital where "Terminator 2" was shot.
So What's Different? For starters, the use of black-and-white skews the tone of the film and Thornton's Karl Childers character towards a completely darker tone. Molly Ringwald plays a reporter who interviews the murderer on the day of his release in a role that was later inhabited by Kathy Sue Brown — the idea of the interview proved to be a leaping off point for the feature, which made Childers far more sympathetic.
"Peluca" (2003)
Directed by Jared Hess
Before he became Napoleon Dynamite, Jon Heder was Seth, an eccentric teen who comes to the rescue when his friend's cousin gets a bad haircut, putting down his ninja books long enough to find the perfect wig. Heder actually was dabbling in animation when his BYU classmate Jared Hess cast him in the short, which was based in part on his childhood exploits in Preston, Idaho. With less than $500 and some black-and-white 16mm film stock, Hess and Heder went back to the land of potatoes to shoot the nine-minute short, which as Hess admits on the commentary track for "Peluca" on the "Napoleon Dynamite" special edition DVD looks especially grainy since he overexposed the film stock by accident. "Peluca" made a splash at Slamdance in 2003, a year before "Dynamite" would hit Sundance in 2004.
So What's Different? Besides being shot in black and white, Pedro and his cousin Giel would be condensed into simply the Pedro character in the feature and Heder's Seth would be rechristened "Napoleon Dynamite," though Heder's in full-on "Gosh…" mode in the short.