St. Trinians, Colin Firth and Rupert Everett sing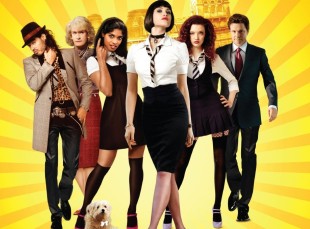 Posted by Brandon Kim on
Before singing his way through "Mamma Mia!," Colin Firth was in a picture called "The Importance of Being Earnest" where he and Rupert Everett have a charming little duet, masculine in that gay late 1800's kind of way.
A few years ago, though it was not released in the US, Firth and Everett got to sing together again in the UK comedy, "St. Trinian's." The setting is an oddball English all-girls private school (which is always good, salacious aptitudes aside even). Firth plays the Minister of Education who wants to shut it down and Everett plays two roles, including one in drag as the blown out headmistress.
The two cheeky stars recorded a version of the 1977 hit, "Love is in the Air" together for the film and sing on a few other songs with the rest of the cast. "Easy Virtue" style, don't forget that. There's actually a sequel in the works called "St Trinian's: The Legend of Fritton's Gold" and the original is getting a US release later this month, Aug 28th.