Selling "Skin" the old-fashioned way.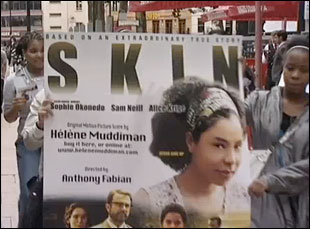 Posted by Vadim Rizov on
Marketing can make or break an opening weekend — if no one's heard of your film, no one's going to see it. Sans trailer, TV ads, posters or billboards, the Sophie Okonedo apartheid drama "Skin" was dying in limited release in London. As director Anthony Fabian put it on the film's blog, "It's hard to know, apart from the editorial, how anyone could possibly know the movie's out there."
The trouble actually started earlier, in production, when, as he informed the Independent, "I was told by a respectable distributor in Britain that it would not distribute a film with a black cast… These films are perceived not to make money." (Shades of Bob Weinstein's truism in the Weinstein brothers' big NYT profile, ruing the money lost on "Soul Men": "For an African-American movie, there's no foreign business.")
And so Fabian, the film's composer Hélène Muddiman and others, including a member of the cast, took to the streets, chatting up random pedestrians, handing out fliers and generally acting like someone trying to get you to join the ACLU. Instead of being annoyed, people were apparently charmed. The movie's now in its fourth week at a theater it was nearly booted out of, and a few viewers liked the movie so much they've been willing to join the Fabian and co. to march down the street and chant about it. As far as marketing tactics go, it's not a strategy easily replicable for general use: after you rope people into seeing your movie, they'll be so blown away by its importance and quality that they'll work for free to get others in! Here's the footage, equal parts cringe-inducing and admirable:
As for the film itself, it's nearly impossible to tell if it's any good at a distance — the reviews so far are all clouded with the respectfulness with which any apartheid movie is going to be treated. And while the words "Based on an extraordinary true story" can awaken dread in any film fan, "Skin" does have the fascinating real-life source of a young girl of dark skin born to white Afrikaaner parents whose legal racial status was constantly challenged. It opens in New York and L.A. on October 30th — whether they'll be marching remains to be seen.