Scorsese's Sinatra biopic – who's it gonna be?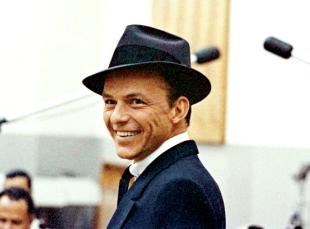 Posted by Brandon Kim on
I've got high hopes that someone will have an intervention with Martin Scorsese regarding his Leonardo DiCaprio addiction in time for the casting of this biopic, titled simply, "Sinatra." Scorsese is the right director to helm such a picture, his love and deft handling of cool/macho packs of guys is half the battle. Once upon a time he was a soundtrack genius too – I think "Mean Streets" alone holds two spots in my top ten uses of a song in film list (something I should start to chip away at). But it's his choice of lead that worries me, more on that in a sec…
There's some hubbub over a disagreement between the director's vision and Sinatra's daughter, Tina's, ideas about how the Chairman of the Board should be depicted. Of course Scorsese wants a violent, sexed up mob related picture. The daughter reportedly prefers a softer approach that focuses on the music. Clearly, she should be removed from the decision making process, but we can't blame her either.
All the controversy reports seem to stem from the NY Post, so factoring in a large hyperbole value may be in order. An "insider" was quoted adding: "The 60s were a very swinging time for Frank – he was having sex with a garden variety of bimbos and cementing his Rat Pack status. It's a really key time to his mythology. And Tina really wants to make sure that a sanitized Frank comes through, and that it's not overly negative." [Guardian]
The other rumored potential conflict is the choice of lead. Tina allegedly prefers George Clooney, the studio is going for Johnny Depp, and guess who Scorsese favors, just guess! Always liked DiCaprio, but Scorsese needs to put on Frank's "I've Got You Under My Skin" and do some soul searching right about now.
Depp could really be mind blowing, but has he lost some of his magic after all this Bruckheimer (aka butt) pirating? Clooney almost seems the natural choice, and shouldn't be too old for 1960's Frank.
Ray Liotta?