How to save indie film? Form bands, not labs.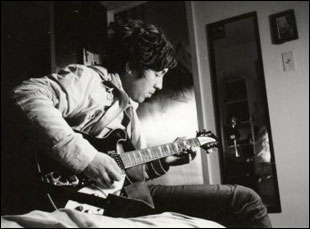 Posted by Vadim Rizov on
Ted Hope, the major indie producer behind "Happiness," "American Splendor," "Adventureland" and many others, is a worrier — he wants new distribution models and new ideas for independent film, and he wants them now. This week he's got a provocative guest post on his blog from Caitlin McCarthy, a screenwriter and inner-city public high school teacher with her own ideas about how to right the world.
The post is titled "How to save indie film," and for McCarthy, the way to do that is to bring in what she refers to as "under-represented people" and "working class youth." She writes that "Only recently (the last century or so) has the working class been able to pursue the arts… The film community needs to create labs and grants that are specifically designed for under-represented people (race and gender), as well as labs and grants that are awarded on merit… It seems to me that filmmaking is a mostly closed business right now, filled with 'secret handshakes' that folks from the outside don't understand." In conclusion, "don't expect working class youth in the US to seek you out, as they don't know where to go."
McCarthy's right about some things — independent film is still pretty white, and, given the amount of money to be made, much friendlier to those who have some sort of financial cushion. But the affirmative action-esque model she's proposing we expand has never proven itself relevant — it just creates a tendency toward institutional sameness, with, say, Sundance labs churning out Sundancey movies, not nurturing radical new voices that'll finally reach that large swath of the population so far indifferent to indie output.
If we've learned anything from the mumblecore movement, it's that you can force change from the outside. When like-minded people with similar interests band together, set up their own artistic groups and screening circuit — assuming the work's good — the spiraling momentum will eventually force the larger establishment to take notice.
And the key word here is definitely "band." The analogy for how the new generation of independent artists will come up isn't anywhere close to the world of Sundance labs, with their frequent emphasis on "correct" screenwriting tied in to the grants; it's like starting a band. You get the people together, you find like-minded souls who can book you (or a sound-proofed basement next to tolerant neighbors) and you wait and see if you get the attention you deserve.
Will they make a bunch of money and join the industry McCarthy is so (understandably) worried about integrating? Maybe, maybe not. But we don't need the "working class youth" to "seek out" industry patrons; in this hard world, like everyone else, they'd do better to start their own infrastructures, then get enough clout to become their own patrons, then get the grants. It'll be tough, but definitely more rewarding.
[Photo: "Mutual Appreciation," Goodbye Cruel Releasing, 2005]