Royal Flush Festival: Film, Music & Art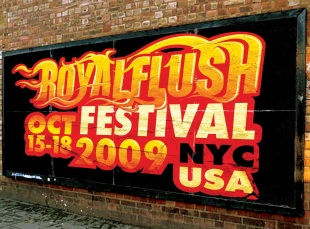 Posted by Brandon Kim on
The Royal Flush Festival is playing its hand of independent film, music, and underground art this coming October 15th-18th at Anthology Film Archives and other venues throughout New York. Founded in 2005 as the E.Vil City Film Fest, it merged with Royal Flush Magazine (the music, art, and culture rag that looks like a comic book that I imagine conservative Christian parents confiscate from their daughters) and changed it's name.
Along with some very promising films, highlights include a rock poster art show to coincide with the New York premiere of "American Artifact: The Rise of American Rock Poster Art," (see more below) and a live performance by Melissa Auf der Maur (Hole, Smashing Pumpkins). She's in a short film called "Out of Our Minds" that opens at the festival.
I'm especially interested in "Out of Our Minds," directed by Tony Stone whose last film "Severed Ways: The Norse Discovery of America" had me head banging to black metal and wearing a Wolf pelt cape for months afterward. "Out of Our Minds" is another tale inspired by Norse mythology that follows a woman "in a strange ritual that climaxes in a collision between past and future, crashing through the gateway to parallel worlds in the same forest. A fantasy world where a Viking heart, a car crash and a bleeding forest connect."
There are many films screening but the headliners are:
Opening Night – Thursday, October 15
"American Artifact: The Rise of American Rock Poster Art" (Merle Becker)
Director, Merle Becker chronicles the rise of American rock poster art since its birth in the '60s. This film features interviews with renowned artists including Stanley Mouse, Victor Moscoso, Frank Kozik, Art Chantry, EMEK, Tara McPherson, Derek Hess, COOP, Jay Ryan, and more, as well as fans, collectors, and musicians.
Centerpiece – Saturday, October 17
"Breaking Upwards" (Daryl Wein)
'Breaking Upwards' explores a young, real-life New York couple who, fours years in and battling codependency, decide to intricately strategize their own break up. Based on an actual experiment devised by director/actor Daryl Wein and actress Zoe Lister-Jones, the film loosely interprets a year in their lives exploring alternatives to monogamy, and the madness that ensues. An uncensored look at young love, lust, and the pangs of codependency, 'Breaking Upwards' follows its characters as they navigate each others' emotions across the city they love. It begs the question: is it ever possible to grow apart together?
Closing Night – Sunday, October 18
"Gangster Exchange" (Dean Bajramovic) – NEW YORK PREMIERE
Hiro's a Tokyo cyber-punk Yakuza with a simple mission: smuggle a toilet made of pure heroin to New York City. If he fails his boss will stick his sword where the rising sun don't shine. Marco's a muscle mountain enforcer working for a family of ex-commandos from the Bosnian war. He's an entry-level thug with dreams of rising up the ranks. But in the Bosnian mob, promotion is spelled AK-47. When a bloody New York mob war erupts and Hiro and Marco snatch the toilet. It's worth millions – if they can find somebody who can decipher the Japanese chemistry formula.
For more listings and information check out royalflushfestival.com.