Is it time for a return to noir?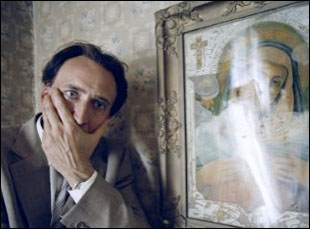 Posted by Vadim Rizov on
Earlier this year there was a spate of trend pieces on what the recession would mean for film. Would Hollywood slim down? Revive lighthearted comedy? The recession's officially slowing (or over, according to the IMF), but that doesn't mean predictions have to, and the latest involved more movie doom and gloom for all. So says the Telegraph's Matthew Sweet — not the power-pop musician, but rather a polymath British historian who's also written a few "Doctor Who" radio plays. Sweet has a new BBC documentary coming forth about film noir, and, naturally, he's like to argue that we're ripe for a new wave.
Actually, what he's really like is for Werner Herzog to do the arguing for him, and Herzog is happy to claim his "Bad Lieutenant: Port of Call New Orleans" isn't an exercise in the kind of Herzogian eccentricity his fans love, but "a new step in film noir." He explains: it's not a question of "techniques of light or a particular kind of story… it's a cultural mood."
If, as Sweet argues, noir incubated itself during the dark days of "blackout conditions and power-rationing imposed after Pearl Harbor" and expanded post-WWII in McCarthy-era paranoia and economic despair, our own hard times seem to demand something similar. And so he believes we're in for a new era of movies terminating at "the moment when there's nowhere to run; the moment when the possibility of a happy ending vanishes; the moment when the lights go out." Or worse, we're left with a dangerously unhinged Nicolas Cage as our most reliable guide to post-Katrina New Orleans.
Weirdly, the two examples Sweet provides himself are TV shows: "The Wire" and "Battlestar Galactica." These are shows about societies, not individuals, on the brink. The archetypal noir protagonist is the opposite, a man out of time and place, unable to keep up with a world that's conspired to leave him behind. The despairing endings wipe out one person but leave society standing, oppressive or otherwise. "The Wire" and "Battlestar Galactica" don't work that way: they're about entire worlds this close to absolute entropy and extinction. They don't start well and end in despair: everything's screwed-up from the word go.
If by "noir," Sweet means movies and TV shows that acknowledge the possibility, even the inevitability, that nothing will turn out OK… then for now we're just left with TV shows. On ones like "The Wire," you get to have things both ways: characters to survive to become even more cynical than they started, and others to become sacrificial lambs. There's no market for stylized downfalls of the individual anymore, and certainly the era of the femme fatale seems to be over. The new noirs will let their anti-heroes live, but they'll never go down in a blaze of glory; like "The Wire"'s Jimmy McNulty and Cage's bad lieutenant, they'll be just as bad as what's around them. The tragedy of the new noir isn't that the anti-hero is out of place in society; it's that he's exactly in place.
[Photo: "Bad Lieutenant: Port of Call New Orleans," Millennium Films, 2009]