The Pleasures of Putting a Team Together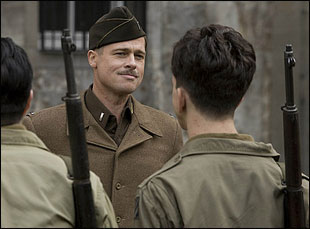 Posted by Matt Singer on
It's the first line of the last trailer for Quentin Tarantino's "Inglourious Basterds": "I'm putting together a special team," Brad Pitt's Lt. Aldo Raine says. Most of Tarantino's movies pay homage to particular strains of genre cinema, from kung fu flicks to heist thrillers to grindhouse slashers, and with that pronouncement, Tarantino puts "Inglourious Basterds" in that cinematic tradition of pictures about the recruitment and implementation of a specialized squad of badasses.
"Putting a Team Together" is more a structural motif that crosses into different genres than a genre unto itself. There are musicals — "The Blues Brothers," for instance, where Jake and Elwood Blues reassemble their former band in order to fulfill a "mission from God." There are superhero films like "The League of Extraordinary Gentlemen," the adaptation of Alan Moore's graphic novel in which one famous literary figure drafts several other famous literary figures to help him defend the British Empire. Certain elements hold in every instance: a mission of danger or importance requiring the creation of a unique unit, with members possessing specialized skills useful in the achievement of the mission, and some sort of great reward at stake for the members. Some of the most successful films of all time follow the "Putting a Team Together" formula, from "Jaws" to "The Lord of the Rings."
The archetypal film in this mold is Akira Kurosawa's "Seven Samurai" (1954), in which a village awaiting the return of looting bandits convinces a samurai to round up six of his compatriots to protect them. Over 200 minutes long in its uncut form, the movie dedicates a third of that runtime — nearly the full length of a typical feature — exclusively to the methodical process of selecting the samurai. In his audio commentary on the Criterion DVD, film scholar Michael Jeck notes that this aspect of the film "is another way in which this picture has been imitated over and over and over again… If you think about it, what pictures before this directly recruited a team for a mission?"
The only earlier example that comes to mind is 1950's "The Asphalt Jungle," directed by John Huston, a film Jeck disqualifies because, as he says, "the team was not directly recruited." But either his memory is a little shoddy or I'm misinterpreting his statement because "Jungle" does indeed follow its team's formation, which begins when "Doc" Riedenschneider (Sam Jaffe) is released from jail with foolproof plans for a major jewel heist. The job requires precision and professionalism, and he pays a bookie to use his connections in the underworld to find the specialists he needs: a safecracker, a driver, a financier and a hooligan. The process isn't given as much deliberation or time as in "Seven Samurai," but then nothing in "Asphalt Jungle" is given as much deliberation or time as it is in "Seven Samurai." And Jeck concedes that it's very possible that Kurosawa, a crime fiction devotee, might have seen the film or even read the novel upon which it's based, before making his epochal jidaigeki.
It's true that "Asphalt Jungle" deviates from the archetypal formula that "Seven Samurai" would soon set forth, particularly in the way that its main character, played by Sterling Hayden, is merely a thug involved in the commission of the robbery rather than the man who develops the plan and assembles the players. Still, I'm inclined to give it an important early place in "Putting a Team Together" movie history because so many heist films that have come after it (not to mention borrowed liberally from it) have become crucial similar texts. Danny Ocean's titular group in Steven Soderbergh's "Ocean's 11," for example, has its own safecracker, drivers and financier, and its own elaborate heist calling for specialization, precision and professionalism.
"Inglourious Basterds" shares some elements with another classic "Putting a Team Together" movie, 1967's "The Dirty Dozen," directed by Robert Aldrich. In that film, Lee Marvin gathers a squad of disgraced and convicted soldiers awaiting execution or lengthy jail sentences, and offers them a commutation in exchange for their participation in a secretive unit. Both the Basterds and the Dozen undertake "suicide missions" involving raids on gatherings of high-ranking Nazi officials in a single location.