Disney: Pillaging Russian fairy tales since 2009.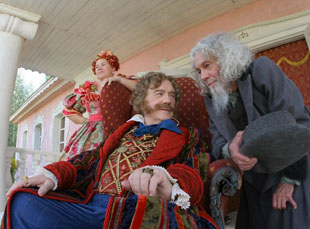 Posted by Vadim Rizov on
Never mind that 2008's animated Bollywood venture "Roadside Romeo" was a flop — the Mouse House is now taking the plunge into its first Russian production.
"Kniga Masterov" (The Book of Masters) is an expensive-looking live-action, CGI-enhanced fantasy family flick made on the cheap — $7 million, according to a Variety report from last year. The folktale-based film's a co-production between Disney and much-lauded actor/director Nikita Mikhalkov's production company, which, depending on which English version of their name you run with, is called either Three-T or the unfortunate Studio Trite. Here's the trailer, which just surfaced online:
My Russian's not perfect, but the basic elements are pretty clear even sans subtitles: there's an evil queen with a mirror, a young boy who must master the titular book in order to defeat her, and a love interest in the form of a mermaid who bitches about how men always leave after they see the lower half of her body. It looks as edge-free as any American equivalent would been, which, business-wise, is probably a good move. Like India, Russia's audiences have expressed a preference for homegrown films, not Hollywood commodities, ever since "Night Watch" edged out the last "Lord Of The Rings" installment to become the highest-grossing Russian film of all time. The titles tend to be big and slick, intent on beating the big U.S. studios on its own terms (it's no coincidence Timur Bakmambetov went on to make "Wanted").
It's Nikita Mikhalkov you have to wonder about. Mikhalkov was once a widely respected director who walked the fine line between representative of the state and internationally respected artist. Akira Kurosawa named his 1977 "An Unfinished Piece For Player Piano" as one of his 100 favorite movies, while more recently, "Burnt By the Sun" tied for the 1994 Grand Jury prize at Cannes.
After 1998's "The Barber Of Siberia" was an international disaster (if a domestic hit), Mikhalkov retreated from directing, returning with 2007's dreadful, hammy "12" — which Russia promptly submitted to the Oscars as official state art. Having survived the USSR, glasnost and the new Putin era, Mikhalkov now seems happy to do whatever it takes to keep himself a state artist, 40 years running. Glitzing up fairy tales for a mass audience is hardly a crime, but it sure as hell doesn't look like serious art either.