Patton Oswalt: A "Fan" for All Seasons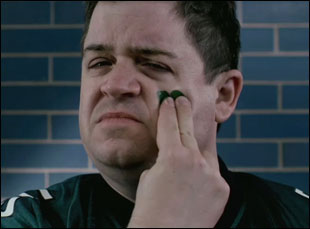 Posted by Aaron Hillis on
One of the most irreverent, quick-witted and prolific stand-up comedians working today, Patton Oswalt is instantly recognizable from his TV appearances ("The King of Queens," "The United States of Tara"), voiceover work ("Ratatouille") and cameo roles in movies ("Observe and Report," "Starsky and Hutch"). So the most surprising fact about Oswalt's first film leading role is that it's far too unsettling to be called a comedy. "Big Fan" marks the directorial debut of Robert Siegel, the Oscar-nominated screenwriter of last year's "The Wrestler." A convincingly sincere Oswalt stars as Paul Aufiero, a sad-sack Staten Island parking lot attendant who obsessively follows the New York Giants, and spends his free time writing triumphant rants about his beloved footballers to be unloaded on a sports radio call-in show. Oswalt has joked that the movie should be called "Fattsy Driver," but the more accurate Scorsese reference is "The King of Comedy," as Paul becomes dangerously fanatical about his favorite linebacker. In town to promote the film and his new comedy album "My Weakness is Strong," Oswalt sat down with me at a midtown Manhattan pub to talk about comic books, why Staten Island isn't entirely depressing and the last time he got his ass kicked.
So you're a comedian doing drama, working with a former Onion writer now recognized for drama, and you're shooting this quick and dirty little indie. How unusual was this project?
[laughs] Quick and dirty is correct! What was challenging was the lack of any kind of facilities. You change your clothes in the back of the van, you stay in the car with the heater on to stay warm, or we're all on location at someone's house. Because I'm such a film buff, [I had] that nerdy exhilaration: "This is what it probably was like to do 'Mean Streets' or 'The Rain People' or all these early movies when they had no fucking money." It was all "Quick, grab the shot before we get arrested," or "Call your friend tomorrow, we got a mock-up. Doesn't he have a room that's really white? We'll make it look like a hospital. Fuck, what are we going to do?" It was all [about] who can pitch in where, and I loved that kind of moviemaking, where we used the world around us, rather than depend on sets.
Do you get pampered working on studio projects?
Well, there's a level of comfort from being on a much bigger budget thing. Something like this, it didn't take you long to get into the character: "What is the effect of staying in this room my whole life done to me?" I've been here for eight hours, and it really is starting to affect my worldview, and pissing me off a bit. There's something beautiful about that.
The film was shot all over Staten Island. Is there any place more depressing?
It's not that the place itself is depressing. There's just been no effort towards any kind of design or aesthetics. It's like that Oscar Wilde quote — "Why are Americans so violent?" He goes: "Well, you guys have such ugly wallpaper." That sounds funny, but there's something psychological to it. If you surround people with ugliness, then they're going to be in a bad mood all the time. But a lot of the [restaurants] were all family-run, so that part still had a lot of humanity to it. It had this cool dichotomy that I loved.
I know you're not a sports fanatic, so let's talk comic books. What's the most obsessive thing you've done in the name of comic collecting?
I don't collect them, but I do read them, so I do get very obsessive. I want my new comics on a Wednesday. I fucking want them. I've gotten in cabs and driven to the outskirts of Las Vegas to find a comic book store on a Wednesday, so that I've got my pile. But I'm not obsessed with the characters — I very much follow the writers and artists that I like: the Luna brothers; everything Ed Brubaker, Brian K. Vaughan, Daniel Way or Matt Fraction does; or Warren Ellis, his 19 titles a week. [laughs] That stuff jazzes me up. The things I love… I try to have them enhance my life, not replace my life.
So what's the through line of your taste? What appeals to you in modern comics?
The only genre I have left is just "good." I tend to trust writers, and I also read reviews. When people say, "Oh, there's this new writer, you should really check him out. He's doing something great," that's what I follow. I don't sit there and go, "I like robots. I like werewolves." It doesn't matter. Dave Mazzucchelli has this new one — "Asterios Polyp," about an aging architect — that I could not put down. At the same time, Darwyn Cooke adapted Richard Stark's "The Hunter," and I could not put that down. I just like good stuff.
Besides being obsessive, your character Paul's fandom is communal. Do you have any hobbies you share with a collective of friends?
There's nothing I meet up for anymore. It's all solitary. I'm so busy working, writing and performing that I don't have time. Going to see movies with friends, and sitting and arguing about them afterward, that's still an abiding passion. But I wouldn't say that that's a hobby-like meeting — tt's just me and my friends going to see movies.
From my limited exposure to your onscreen buddy Kevin Corrigan, he seems like a real-life eccentric.
That's really how he is. He's not "Oh, I better put on the weirdo character now." It's just the way he interacts with the world and the way his thoughts come out of him. You realize he's moving at a different and random speed. That's what gives him his genius.
In so many ways, Paul just wants to be left alone. Being in the limelight now more than ever, is there anything you want to be left alone about?
Not really. I'll discuss anything with anyone. There's nothing I feel like I have to hide, or just… [in a whiny voice] "Oh, guys, just leave me alone." I don't believe in guilty pleasures. If you like it, don't be guilty about that.