Orba Squara: The Trouble With Flying.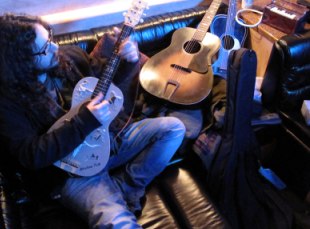 Posted by Brandon Kim on
I'm betting you don't know who Mitch Davis is nor have you heard of his band Orba Squara. But unless you're totally disconnected from TV and various high profile ad campaigns, I bet you'd recognize a jingle here, a jangle there, from his first record, sunshyness which did quite well in the licensing arena.
(Mitch Davis/Orba Squara and a few of his guitars).
Earlier this year Davis took a road trip from his home in NY, west to Portland to perform songs from his sophomore effort, "The Trouble with Flying." It seems in part a reaction manifested from the album's title, and a chance to document a grand journey with a 430 foot-long web project/musical/pictorial map. Virtual feet of course. Studies continually show that most people prefer clicking to scrolling, but I think you'll find it so aesthetically pleasing that it won't matter. And there's still things to click on. I suggest clicking on the title track and let it's sitar float you around the place a while.
The forthcoming album is due out sometime in October. Davis wrote and recorded it at his NYC studio, just him and his his collection of toy pianos, acoustic guitars, melodicas, bells and sitars – aside from a chance collaboration with his childhood idol, Billy Squier – strange! Squier is on vocals and guitar on two tracks, the title and one called "Tell," otherwise it's all Davis.
The web project is @ www.orbasquara.com.

Orba Squara performing the song "Gravel."