On-screen smoking, the new sex and violence.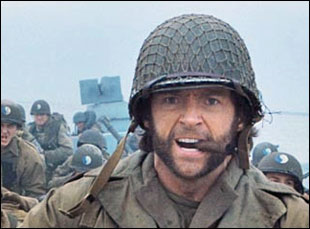 Posted by Vadim Rizov on
Like many a moviegoer, the American Medical Association Alliance was unhappy with "Wolverine," but not for the usual reasons: "Millions of children have been exposed to the main star of the film, Hugh Jackman, with a cigar in his mouth in various scenes," president Sandi Frost told CNN at the start of this long blockbuster season. "I'm willing to bet that not one child would have enjoyed that movie or Mr. Jackman's performance any less if he hadn't been smoking."
The question of how many enjoyed it at all was, presumably, moot. But ever since a 2006 study concluded that every year 400,000 impressionable teenagers start lighting up because of movies, the AMAA has been lobbying to get an automatic R for any movie with smoking.
While here in the U.S. the MPAA has yet to take the bait, the U.K. might be poised to go them one better. Local communities there are allowed to re-rate films at their own discretion, and the city of Liverpool is seriously contemplating giving all movies with the slightest whiff of tobacco an automatic "18" — under the age of not admitted, an NC-17 equivalent. (Hilariously, historical figures who were documented indulgers are exempt from this ratings harshness, as is anyone shown coughing up a lung or dying of cancer after taking a drag, and the only people who get to smoke on-screen anymore are usually either villains or out of the past anyway.)
You have to wonder: will not seeing any smoking on-screen before 17 (or 18) really prevent kids from seeing any smoking at all before that time? (Well, maybe, in certain parts of Los Angeles.) But the idea of local communities managing their own ratings is a neat one. There will always be places where people feel the need to protest what's being shown in a movie for whatever moral reason. Instead of wasting a lot of time arguing about what's OK and not, and given that the MPAA's famously watery standards tend to frustrate everyone equally, why not set up local committees for cities that want them? If there's a community so uniformly conservative that, say, "Land Of The Lost" seems like "a solid R," as one indignant writer on Big Hollywood claimed, for its "sheer abundance of sexual references, filthy language and breast fondling," let them change the rating and save everyone the editorial space.
In the meanwhile, the town of Liverpool can look to the incredibly overzealous SceneSmoking.org, whose sole criteria for any movie ever is its tobacco content, for guidance. Their ratings system is in lungs — pink and gray — and the pullquotes are so amazing they should be mandatory for all print ads: "You'll love the amount of tobacco in I Love You Beth Cooper: none!"