"Mystery Team" and the case of the indie comedy.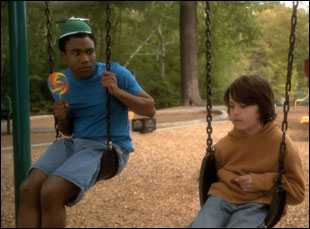 Posted by Stephen Saito on
The case of the indie comedy has been a tough one to crack. Films like "The Foot Fist Way" and "Wet Hot American Summer" have traditionally struggled in theaters, only to go on to success on DVD and permanent rotation on cable. That's why the "Mystery Team" is coming to the rescue.
Tonight, the Derrick Comedy troupe will premiere their Sundance fave about a trio of "Encyclopedia Brown"-esque kiddie crimesolvers forced to grow up fast when faced with a murder investigation, but it won't be in front of the usual crowds in New York and L.A.
Instead, Derrick members Dan Eckman, DC Pierson, Dominic Dierkes, Donald Glover and Meggie McFadden will be traveling to Austin, TX to kick off a full-fledged theatrical run at the Alamo Ritz. In the weeks that follow, "Mystery Team" will begin runs in Athens, GA (9/4), Gainesville and Tallahassee, FL (9/11), Ames and Iowa City, IA (9/18), and Columbia, Mo. and Lawrence, KS (9/25) before a national rollout in October. It's not unprecedented — Sony Classics attempted something similar with the Duplass brothers' horror comedy "Baghead" in 2007 — but the unorthodox distribution pattern is a canny move that's not only a testament to the diverse, devoted fanbase that discovered the group on YouTube, but one that tries to advantage of underserved audiences.
"We've had a lot of comments on our YouTube videos where it's all people going, 'oh man, I live in this little area and I know if it says 'select cities,' it's not coming to me,' " says Eckman, who also directed the film. "We feel like because we're all from pretty small towns, for the most part, if something like that came to our town, it would feel really cool."
Although "Mystery Team" garnered its fair share of positive reviews at Sundance, it didn't leave with a distribution deal. Undaunted, Derrick Comedy decided to hold their own free preview screenings on the coasts in the spring. "We had to turn away 200 people in the first one and even more on the next one," says Eckman, who added, "we had a few distributors at those who went, 'oh, maybe people do want to see this movie.' "
Roadside Attractions emerged as the film's distributor, Derrick Comedy made a memorable appearance at Comic-Con, and, aside from the film, Eckman and McFadden are working on a pilot for E! and Glover will soon be appearing on the NBC comedy "Community." In the meantime, Eckman is promising a "rockin' good time" as Derrick Comedy hits the road with "Mystery Team," which you can keep track of here as it travels the country and get a taste of via this short they created especially for Comic-Con:
[Photo: "Mystery Team," Roadside Attractions, 2009]