"It's a twister! It's a twister!": Rating movie tornadoes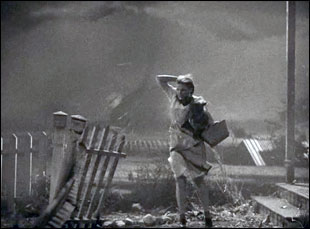 Posted by Keith Cecere on
Creating a tornado in a film has always been a test of the limits of special effects, but most people, luckily, haven't gotten up close and personal with enough of them to spot the differences.
Keith Cecere and Rich Ruggiero, both active storm chasers (and co-stars in IFC's storm-chasing mockumentary "Funnel of Darkness"), have.
That's why they've offered their judgments on five movies known for their wicked weather sequences, which they've rated (both for the effects and the acting — hey, everyone's a critic) on the Fujita scale, a scale for rating tornado intensity, from f1 (weakest) to f5 (strongest).
"Twister" (1996)
Directed by Jan de Bont
Rich Ruggiero: This classic gets an F5. The effects are really good — and it came out 13 years ago! In special effects time, that's like 200 years. There've been a lot of advancements since then, but the filmmakers did a sick job with what they had back then. I love the various shapes the twister takes — they stayed away from the more stock shapes and kept it interesting. My main criticism is that there's no way they'd be unscathed after that nader (storm chaser shorthand for tornado) passed over them. Keith did have a tornado pass over him once, but it ranked lower on the scale than this one. At the very least, some serious cuts and bruises would have come from this intercept. Plus, Helen Hunt, chasing tornadoes! She's come a long way from her early days experimenting with PCP in after school specials.
"The Wizard of Oz" (1939)
Directed by Victor Fleming
Keith Cecere: We give "The Wiz" an F3. It's been a while since I've seen this one, but of course it immediately came to mind. I'm pretty impressed with the nader in it, and the sound design is good too. We have some T.A.R.D. (tornado audio recording device) recordings that would show that the actual sound produced by a tornado is slightly different, but they didn't have that type of technology to reference. The acting I cannot vouch for: these idiots are completely hamming it up with their "it's so windy my legs just fly in the air when I try to get into the cellar." The shape of the funnel is really what redeems "The Wiz." You'd think they would automatically go for the straight wide funnel, but they opted for more of a rope. Nice touch.
Night of the Twisters (1996)
Directed by Timothy Bond
RR: F2. They chose to emphasize the destruction in this one. The nonstop chaos is fun to watch, and it's always cool to see a toilet shoot its water through the vent pipe on the roof (a strange thing to highlight, but thank you). So for that, we start our rating with F5. However, the acting is so terrible that "NOTT" automatically loses three points — the only person that can act is the baby, and I'm sure they recorded all those cries after the shoot with a different baby. And the twister is just thrown in there, your basic wide funnel, whatever. The fact that it's backlit by lightning has a special place in our hearts, but that's about it. Also, the editing sucks.
"Devil Winds" (2003)
Directed by Gilbert M. Shilton
KC: Another F2. "Devil Winds" has got to be the best/worst name you could ever come up with for a movie about tornadoes. I love it, because it's the cheesiest thing in the world. I'd be lying if I said "Devil Winds" did not inspire our band Black Wind. We actually wanted to be called Devil Winds at first, but got into some legal trouble with the film's producers. Regarding the film, I don't buy the twisters. There's one in there that forms way too quickly. The dynamics of these puppies are also not very convincing, and they seem to all have the same shape. Tornadoes come in many shapes and sizes, so you should really be choosing from a wide palette when making your tornado movie. The one thing I do like is the addition of the airplane in the chase. That's something that we've always wanted to get into, because we could get some really sick shots from up above, but for now we stay on the ground.
"Category 6: Day of Destruction" (2004)
Directed by Dick Lowry
RR: F1. This one sucks: there is no Category 6 for tornadoes, these guys have not done their research. And why would they choose Vegas? The only thing I like about it is that the guy in the executive suite at Caesars Palace is such a cheeseball. I think the filmmaker is trying to make a comment about philandering when he has the guy sucked out of the window, GHB-spiked cocktail in hand. I'd go so far as to say that there's a larger comment here about consumerism and excess in general, given how two gigantic (and incredibly fake-looking) twisters tear Vegas apart. The movie also seems to have no plot, but that's not really what we're talking about here. We're talking about tornadoes. And the tornadoes are super-cheese. They did a better job in "The Wizard of Oz," and that movie was made in 1939!