Movie listings go the way of the cassette tape.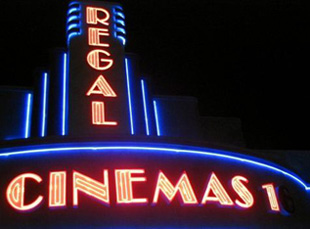 Posted by Vadim Rizov on
I'm one of those horrible people personally responsible for the death of newspapers: I haven't bought one in years now. And, like my news, I get my movie times online. Clearly, I'm not the only one: according to an AP news report, the country's two biggest multiplex chains — Regal and AMC — have stopped paying for small-print listings in newspapers across the country with hardly anyone but the papers' long-suffering editors noticing. For those of you who haven't picked up a paper for even longer than me, small-print listings are the showtimes that aren't boxed off and clearly demarcated as ads; they look like another part of the entertainment section, but they're paid ads.
When those listings were cut from the Washington Post two months ago, a few huffy readers did contact ombudsman Andrew Alexander , who had to explain the listings were a paid ad rather than a public service. For the most part, though, the public couldn't care less; the people really distressed are the newspapers, losing increasingly rare ad revenue. AMC claims no significant loss in ticket sales has been seen and Regal's in-house surveys show 60-80% of respondents get their listings online already. Even the lesser-known Carmike Cinemas — a regional chain based in Columbus, GA — has cut or entirely eliminated their newspaper presence in 50 markets and received exactly one complaint in return. The death rattle of newspapers continues apace; movie times, like apparently everything else, are moving online.
While it's inarguable that most people now turn to the web for movie times, I'd be nervous of any kind of model that eliminates print listings entirely. The reason: like a lot of people, I don't own a Blackberry, iPhone or any other kind of portable device that would quickly hook me up with showtimes on the go. And while I'm not about to plunk down $1.50 (or whatever it is now) for a daily, I do appreciate being able to pick up a free alt-weekly or daily that has showtimes in it. (And, despite the media's self-documented decline, there's more free dailies than you'd suspect.) There'll always be your incurious type of time-killing viewer who shows up to the theater and see whatever's playing next, and most anyone who can afford a multiplex ticket can probably get access to the internet somehow. But it'd be nice to think that people without PDAs wanting to make plans on the fly could still rely on print — not everyone can afford an iPhone just to figure out the start time of the next matinee. Not that those really exist anymore either.
[Photo: Regal Cinemas]