More Radiohead "Collectors Edition" releases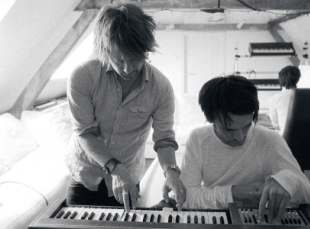 Posted by Brandon Kim on
Capitol/EMI is releasing double disc expanded reissues of "Kid A," "Amnesiac," and "Hail To The Thief'" tomorrow in a follow up to the reissues of the first three albums in March. Let's be frank, it's a cash-in on the catalog by the huge band's former label. Hardcore Radiohead fans are as likely to boycott the release as they are to pirate it later off the series of tubes.

("Thom and Jonny and Drew in Ondes." From Radiohead.)

But it ain't all bad is it? Whatever you think about record labels and this one in particular, the idea that people may still be buying albums and listening to them the way the artist put them together is a pleasing one. And if the prior releases are any indication, these will be a nice purchase for someone who does not already have them – or had them stolen out of his glove compartment while parked in a warehouse district in Milwaukee.
A bit ago I took a look at some notable director's of Radiohead video's (here) and recalled that two of my favorite songs both had video's done by Shynola. There's an odd anecdotal tie between the two that gives insight into the mind of Yorke. Of "Motion Picture Soundtrack" he said something like "that's most beautiful piece of film that was ever made for our music," and of "Pyramid Song" he reportedly said, "the best thing we've committed to tape, ever."
It all culminates in this:

Both songs are of course on these upcoming August 25th reissues. Who's buying? I wouldn't mind getting my hands on these, truth be told, though I much prefer vinyl. Don't forget to dig Radiohead's freebie heaven too.