Lightning Dust (members of Black Mountain)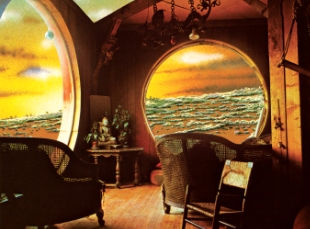 Posted by Brandon Kim on
Amber Webber and Joshua Wells are Lightning Dust. They're both best known as core members of the increasingly famous psych band, Black Mountain – I'd recognize Webber's undulating cries anywhere. After getting down with this 2nd Lightning Dust release, Infinite Light, I imagine that instead of being known as members of this or that, that these two will simply become household names to people under 40.
(Infinite Light is out on CD and LP on Jagjaguwar)
They're islands in the stream and this album is a ticket to sail away with them to another world. Hey kid, here's two golden six shooters, one fires light and the other fires love. Go make something out of nothing in the dark tonight while you're Waiting on the Sun to Rise.
Easily the best new album I've heard in months, this is one I wouldn't want to hear piecemeal or discombobulated up on someone's nonsensical itunes mix. Still, I'm a believer in the single so here's one that should make you feel as though you've left Earth in a Clipper ship made of living trees helmed by Webber and Wells. You, Stevie Nicks and Gandalf on the foredeck, your hooded cloaks billowing with the sails, in a cosmic wind.
Infinite Light released yesterday, Aug4th (due to persistent technical issues this post was delayed) You can buy it here.