Transcendence and world peace through explosions.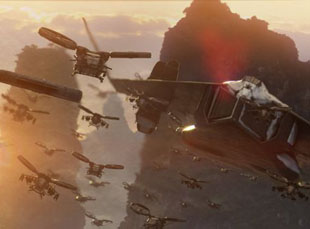 Posted by Vadim Rizov on
Perhaps you've heard — the "Avatar" trailer has arrived. And I'd call it a canny, good-looking piece of work; if you're going to market a 3-D IMAX event movie with a 2-D trailer, this is the way to do it.
By this point, you're either a) awaiting "Avatar" with every fiber of your existence b) sick and tired of hearing about the damn thing c) don't know what this is all about. And despite the fanboy hype, I suspect c) is more common than Fox would like (they've sold the geeks; now they just need to sell the rest of the world). And the internet is filled with people who'd love for James "King of the world" Cameron to fall flat on this face. At Ain't It Cool, things degenerated quickly from unity in cursing Apple's inability to get the trailer up on time to a war of "THIS IS AWESOME" vs. "THIS LOOKS LIKE A PS3 GAME." (Or, more colorfully, "no way you're raping my eyeballs with that limp, flacid [sic], little, miniature cock of a teaser.")
Cameron is the Terrence Malick of action movies, by which I mean he really does believe he can create transcendence, most often through blowing shit up. While Cameron's been on hiatus, Michael Bay's become the dominant name in action filmmaking. Bay — to his credit? — has zero illusions about his ambitions or place in the world; he likes to make money, and he happens to enjoy fast cars and cleavage. Cameron, on the other hand, can be accused of hubris, but never of purely mercenary inclinations or insincerity. With the exception of 1986's "Aliens," all of his work from 1984-1994 functioned, on some level, as a plea against nuclear proliferation. The Terminator films are nothing if not concerned about nuclear holocaust, but they're tame next to 1989's "The Abyss," a movie which — at least in its director's cut — builds for two-and-a-half grueling hours to a climax where underwater aliens tell us to quit stockpiling weapons.
For all their technical sophistication, Cameron's movies have the odd naïveté of someone truly convinced he or she can change the world through entertainment. But the Cold War's over. There's been speculation that "Avatar" will be a coded allegory about Iraq (please God no), but the notable thing about the trailer is how CGI-bound it is. All of Cameron's films have been technology boundary-pushers, but — with the exception of "The Terminator"'s climactic stop-motion animation — they've all aged flawlessly, with effects grounded in well-done reality.
"Avatar" takes Cameron out of the Cold War and into fantasy land; when you randomly freeze-frame the HD trailer, everything looks pretty awesome, but there's no doubt you're looking at nicely textured CGI creatures. The question really is if Cameron's action directing skills have atrophied or if he'll be able to immerse audiences as always (and, judging by the sentimental tenor, how far into the movie and for how long the inevitable love plot will turn everything into sap, as Cameron likes to do).
When Cameron talks about a new kind of movie, he's basically asking audiences to embrace a new kind of artifice: fewer fireballs, more dragons. It's reminiscent of Robert Zemeckis' money-losing experiments in motion capture (like "Beowulf"), only with even more at stake. And just as audiences have been resistant to Zemeckis' (intriguing, really!) work, they may turn Cameron down. Embrace your inner D&D nerd, America! James Cameron says it should be so.
[Photo: "Avatar," Twentieth Century-Fox Film Corporation, 2009]