"Inglourious Basterds" promotes English language domination.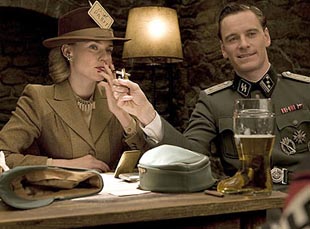 Posted by Vadim Rizov on
Over the weekend, "Inglourious Basterds" went from a film with a mixed Cannes reputation as Tarantino's least-productively talky to being a box office conqueror. If critics are still split, the general public seems surprisingly united in loving it. As Sharon Waxman reports, the Weinsteins marketed a kick-ass action movie, and somehow, remarkably, didn't alienate theatergoers who actually got two-and-a-half hours of subtitled conversations. CinemaScore (which polls crowds on their way out) puts the film at an unexpected A-. Typically, audiences who show up for one thing and get another are annoyed (the explanation given for "Funny People"'s failure).
The most interesting fallout from "Inglourious Basterds"' success was noted in Ben Fritz's analysis in the LA Times. Writing of the film's triumph abroad, Fritz reports that in Germany, no less than 28 theaters showed the original (that is, un-dubbed) version of the film — four times more than usual for an American release.
Why? He suggests that the audiences "wanted to hear Tarantino's celebrated dialogue in its original language," which is super-intriguing. Tarantino's detractors despise precisely his indulgences in the sound of his own voice and dialogue. Is Tarantino so firmly established worldwide as a master of a dialogue that he trumps even the dubs done by his own actors (co-stars Christoph Waltz and Diane Kruger did their own for both the French and German versions)? If so, he's got to be the only filmmaker working today to command that level of dedication. Which won't help the case of Tarantino's swelling ego one bit, but so it goes.
[Photo: "Inglourious Basterds," Weinstein Company, 2009]