"Ice Age 3" is the new "Titanic."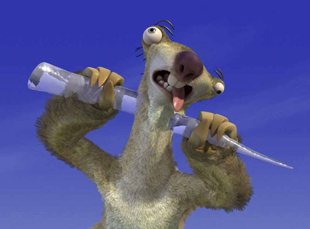 Posted by Vadim Rizov on
Yesterday the internet had a freak-out about "Avatar Day," James Cameron's attempt to turn the entire country into Comic-Con this Friday. The film's website was down for hours as it was flooded by eager fanboys trying to get tickets for the privilege of being able to see 16 minutes of footage from a movie that's not out until December. This is the kind of mania and demand you can only create when you're the self-professed King Of The World, pushing the boundaries of blockbuster technology with every feature.
Or you could just make a movie with a sloth that talks funny. In a deeply depressing article by Claudia Eller in today's Los Angeles Times, even the director of "Ice Age: Dawn Of The Dinosaurs" can't explain why his is now the most popular animated film ever released abroad. In some countries, it's the highest grossing American movie since "Titanic." Say what you will about Cameron's last movie, but lazy he wasn't — for $200 million, he really did try to give you the last word in epic vulgarity (earning all those D.W. Griffith comparisons, in ways both good and bad). Meanwhile, "Ice Age: Dawn Of The Dinosaurs" is $100 million worth of lame jokes and family togetherness.
A few attempted explanations: In Germany, credit can apparently be given to stand-up comic Otto Waalkes, who's been famous since the '70s and even plugs the character he voices, said Sid the sloth, within his own sets. (Fox's man in Frankfurt straight-facedly describes the character as "anarchist" and "irreverent," which suggests a rogue redub.) It's popular in Latin America because it's about family. But the best explanation comes from one John Durie, who works on European marketing: where movie tickets are expensive and/or people have less money for them, brand name recognition counts.
Think pieces about the decline of Hollywood originality have been de rigeur for as long as the sign's been standing on the hill, but it's also true that a decade ago, the franchise that could make it to three installments or more seemed like an '80s hangover, something reserved for the cheapest of slasher films. The big '90s blockbusters — like 1996's indelibly dumb duo of "Independence Day" and "Twister" — may have been deeply unoriginal, but they were one-offs, with a new spectacle for every summer. Something's flipped in the last few years: "Mission: Impossible" is going for number four, the "Spider-Man" movies hope to make it to six, and — somehow — "Saw VI" is waiting with death's inevitability this October.
Personally, I blame the "Lord of the Rings" trilogy for proving audiences don't mind being repeatedly exploited by the same characters even on an annual basis. The odd lesson here is that reliability is now worth more than spectacle, a new paradigm that makes all the old blockbuster rules irrelevant. And that goes double for any franchise that relies on overseas for the majority of its gross — which is all of them. In other words: "Ice Age: Dawn Of The Dinosaurs" may be the most prophetic movie of 2009 in terms of what awaits us every summer. Unless, you know, James Cameron saves spectacle. We can only hope.