"Halloween II" is, theoretically, awesome.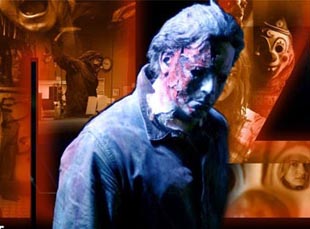 Posted by Vadim Rizov on
I love Rob Zombie's "The Devil's Rejects." I think it's one of the 30 best movies of the decade. But, according to my critic peers, that can't possibly be the case, because we're all horrific snobs — or so the studios think. Dan Kois at New York is done with what he calls "the Summer of Film-Critic Irrelevance." Since neither of today's two major genre releases, "The Final Destination" or "Halloween II," is getting screened for critics — despite the fact that critics might actually like them — he's more worked up about this than you might expect.
Back in the day, B-movies wormed their way into importance, turning noir from pulp entertainment into an essential part of film-student study. Every generation of critics fights over what should become part of the canon (check out this discussion at Dave Kehr's website). Every time it seems the essential viewing curriculum is nailed down, someone comes along to disrupt it.
These days, studios treat critics as a hostile herd who'll pull down anything remotely populist; genre films tend to get screened for the fanboy crowd alone. And it's true that your Rex Reeds of the world want nothing more than perfectly configured Oscar-bait. But any critics worth his or her salt (increasingly the only ones standing) isn't going to automatically look down on genre or rubber-stamp the obvious award-season whores.
I understand why studios want to do things like hand-pick who they screened "G.I. Joe" for; as far as I've heard, it's terrible. But if we're being told critics make no real difference to how a movie does, why conceal things at all? When a Rob Zombie comes along — a guy who references Otto Preminger in his movies and seems not to care if anyone understands his aesthetic — why not let people in on the increasingly curtailed discussion?
A guy like Zombie, who gives every indication of being a film geek on the right side of the film illiteracy battles, a clearly talented director who only wishes he was a grindhouse hack, doesn't need to be hidden from critics. The studio assumption that genre = critical dismissal is wrong. Just because blockbusters have been ending up on the chopping block doesn't mean that relative bargain basement fare is also going to. "Halloween II" is getting dismissed by the studio who made it; Rob Zombie is — really — an artist. Slasher movies are low stakes, and most people will come to them given effective advertising. Why delay giving his movies over to critics? Someday, when we're around "Saw XIII," they'll be the only ones who care.
[Photo: "Halloween II," Weinstein Co., 2009]