Getting closer to the world's first $0 movie.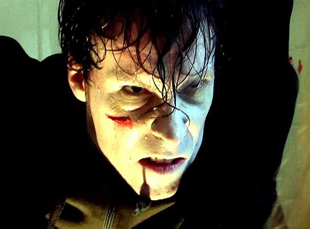 Posted by Vadim Rizov on
There's a history of movies whose low budgets and origin stories are more famous than the films themselves. From his 1992 $7,000 debut "El Mariachi" onward, Robert Rodriguez has practically built a career out of this kind of thing. A decade later, Shane Carruth would make a much better movie — "Primer" — for the same number (unadjusted for inflation!), but people didn't talk about his budget as much. That's because all there was (and is, honestly) to Rodriguez is undisciplined fanboy enthusiasm and extreme production ingenuity; Carruth's movie would have been a knock-out no matter its cost.
People are always fascinated by these kinds of stories, which is a good thing for filmmakers; in certain circumstances, not being able to afford a budget can be, ironically, your greatest marketing asset. So it is with Marc Price's "Colin," a movie I'm very late in finding out about (it played at Cannes earlier this year). Shot for £45 (about $75), it deliberately foregrounds rather than disguises its cheapness.
In an interview this week with Time Out's Nigel Floyd, Price uses his budget to deflate expectations. "That £45 figure was a way of lowering [zombie fans'] expectations," he bluntly declares. "We just wanted to be honest about how cheap the film was, so people would be in the right head space when they were going in to watch it. That way, they might stick with it and enjoy it." Normally you're supposed to wow people with how much you did with so little; Price is going the other way, using his budget to get people not to expect more than the zombie gore he loves, done with fanboy fervor for other fans.
With its stroboscopic editing and deliberate grunge, "Colin" looks just close enough to the kind of museum-oriented video project MoMA might geek out over. But Price has absolutely zero pretensions toward genre deconstruction or any kind of formal project; he just wanted to be part of the zombie movie tradition and was depressed he couldn't afford to live up to George Romero's standard. Floyd profile of the filmmaker is skeptical — he was unsure before he saw the film if there was anything more to it than an easy sell for intrigued journalists. As a genre guy himself, Floyd likes the first-person POV — the film follows Colin's degeneration into flesh-eater from his perspective — but has to ultimately conclude that "Colin" is "a promising feature-length home movie."
But it's a home movie that's getting a UK release October 23, so Price has won: I'm pretty sure this is the least expensive movie ever to get legitimate theatrical distribution. Price is talking now about making a movie that doesn't rely upon actors bringing their own lunches and latex make-up left over from the "Wolverine" set. (The money spent only went towards extra tapes and cheap coffee/tea.)
Price's film is a new variation on the low-budget trick: get it done for no money and make that your selling point — but make it look like a no-budget film, rather than something more. An iffy precedent, encouraging people to watch budgets rather than movies, but also a way to sell a movie to a public that might otherwise not care.
The trailer:
[Photo: "Colin," Kaleidoscope Entertainment, 2009]