Fall Preview: Ten Breakout Stars… and the Indies You Can See Them In Now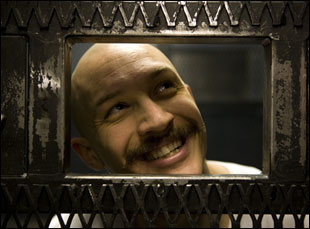 Posted by Matt Singer on
Tons of movies come out every week (as our Fall Film Preview duly demonstrates), and it can be hard keeping up with them all. No one wants to be caught flat-footed or empty-headed when a movie blasts onto the pop cultural landscape and its young star becomes the next big thing. To avert said potential conversational disaster, here's our picks for the ten most likely candidates to be the breakout stars of the fall, along with an older film for each to check out right now. This way, you'll be ready when that all-important question strikes: "What have I seen him [or her] in before?"
Tom Hardy, "Bronson"
How good is British actor Tom Hardy in "Bronson?" So good, according to the London Times, that the car company Audi "keen to spot a promotional opportunity, has started giving Hardy free cars." In our book, that's pretty damn good — just below Oscar good and at least two or three notches better than Golden Globes good. You can Watch Him Now in Guy Ritchie's "RocknRolla," where he played a gay grifter with the hots for Gerard Butler, but even though he's playing another underworld gangster type, don't be surprised if you don't recognize him: Hardy packed on 42 pounds of muscle to approximate the legendarily violent criminal's pumped-up physique, one that according to Bronson's work-out tell-all "Solitary Fitness" can "punch a hole… through bullet-proof glass" and "bend solid steel doors." Lord only knows what he could do to an Audi.
Carey Mulligan, "An Education"
Pre-Sundance stories about "An Education" primarily focused on the fact that the film is based on author Nick Hornby's first original screenplay. Once critics saw the film, things changed; instead, you can expect plenty of stories about the film's lovely young star, Carey Mulligan, who David Poland already dubbed "this fall's Movie Buzz Girl" on his blog earlier this month. Poland rarely agrees with his competitor Jeffrey Wells of Hollywood Elsewhere, but they agree about Mulligan; at Sundance, Wells raved "I know that special old-soul-mixed-with-youthful-effervescence quality that you see in very few actors and actresses over the years, and trust me, Mulligan has it." Watch Her Now as Kitty Bennet in the charmingly rustic 2005 version of Jane Austen's "Pride & Prejudice," also starring Keira Knightley and Donald Sutherland.
Rain, "Ninja Assassin"
On K-pop star Rain's Wikipedia page, the title of "actor" is buried deep within his résumé, flanked by other credits like "model" and "CEO." That may change once the Wachowski brothers are done with him. After impressing them with his stuntwork in "Speed Racer," the Wachowskis (along with frequently collaborator James McTeigue) decided to cast Rain as the lead in this full-on chopsocky movie, "Ninja Assassin." In addition to his test drive in "Speed Racer," you can Watch Him Now in "Thirst" director Park Chan-wook's previous film "I'm a Cyborg, But That's OK," where The Man Formerly Known as Jeong Ji-hoon played a kleptomaniac who falls in love with a woman who believes she is, yes, a cyborg. I'd also recommend you do a quick search of the Interwebs for the highlights of Rain's pseudo-feud with Stephen Colbert, which culminated in a hilariously tongue-in-cheek dance-off on Colbert's show. Something tells me "Ninja Assassin" does not end with Rain smiting his enemies with exuberant dance moves, but that's OK.
Abbie Cornish, "Bright Star"
American audiences who go to see Jane Campion's first feature in six years may not recognize the graceful young woman who plays the role of Fanny Brawne, the muse to poet John Keats and the love of his life. But in her native Australia, Abbie Cornish is already an award-winning star. Her performance in 2004's "Somersault," as a confused, curious teenager who runs away from home, garnered her both the Australian Film Institute and the Film Critics Circle of Australia Awards for Best Actress. For an early glimpse at her talents you can Watch Her Now in "Somersault" — right now, in fact, if you've got Netflix Instant. And while you're at it, take a look at her male co-star. If you're not too distracted by his borderline mullet (we're being nice; there's nothing borderline about it), you'll recognize him as —
Sam Worthington, "Avatar"
— he, too, received an Australian Film Institute award for his work in "Somersault," where he played Joe, one of the men Cornish's character meets in a bar during her flight from her angry mother. True, he's got that dodgy hair, but even in "Somersault," Worthington's already got a knack for quietly charismatic brooding, something that surely helped him land the lead in James Cameron's upcoming mega-blockbuster "Avatar" as well as the key supporting performance in this summer's "Terminator Salvation." If an Australian coming-of-age movie seems like an inappropriately thoughtful prerequisite for a 3D-CGI-SFXtravaganza you can also Watch Him Now doing battle with a giant crocodile in 2007's "Rogue," Aussie writer/director Greg McLean's follow-up to "Wolf Creek."