David Duchovny would like to be your Warren Beatty.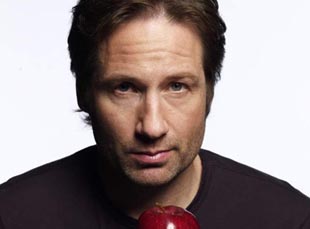 Posted by Vadim Rizov on
Every summer since "Star Wars," pundits have complained about The Death of Adult Film. Sunday, it was the Washington Post's Ann Hornaday's turn to speculate on why "movies for grown-ups are in the cross-hairs," or, in her formulation: "Hello, 'Paul Blart.' Sayonara, 'Frost/Nixon.'"
Oh, c'mon.
The article's assumption is that anything that isn't explicitly blockbuster schlock or a kiddy flick qualifies as "adult." That means that Liam Neeson's kick-some-terrorist-ass fantasia "Taken" is "adult"; "Angels & Demons" is "adult" because it involves the Vatican. Being "adult" doesn't equal the confronting of unpleasant truths about how people interact, subtlety in characterization or delays in instant gratification; it's just another marketing problem for anything that isn't Sundance quirk (Hornaday calls "(500) Days Of Summer" a "poverty-row striver") or CGI bombast.
Same as it ever was. I'm more bemused by David Duchovny's take on the issue. In a Random Roles interview with the AV Club's Noel Murray, the former Fox Mulder gets especially hung up on 1975's "Shampoo" as an exemplar of the "adult anti-hero."
Far be it from me to speculate on why a high profile sex addict (who also plays one on TV!) would be longing for a return to Warren Beatty's sexually aggressive anti-hero days. Nor do I think that there is something inherently adult about the idea of the "anti-hero." But Duchovny does touch on something that is indeed "adult": movies that center on one individual's experience without throwing up much of a plot to market it around.
Duchovny seems to be overly concerned with sex-addled males, but he's not wrong. "Adult" isn't a question of, say, starchy Oscar-bait dramas that congratulate you for showing up to sit through them; it's a willingness to come to an experience without knowing in advance exactly what you're getting. Score one for Spooky.
[Photo: David Duchovny in "Californication," Showtime, 2007]