"Zed is Dead": A Chat with Bobcat Goldthwait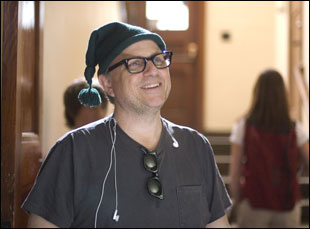 Posted by Aaron Hillis on
Comedian-turned-filmmaker Bobcat Goldthwait is getting closer to shaking off his early career history, when his stand-up comic persona had a high-pitched, jittery growl (for the last time: no, that wasn't his real voice), which also fueled his role as Zed, the loose-cannon cop from the "Police Academy" series. In 1991, he directed the now cult-legendary "Shakes the Clown," but his real rebirth as an indie auteur begins with 2006's "Sleeping Dogs Lie," an unexpected tender rom-com about a guy trying to deal with the knowledge that his fiancée once performed oral sex on a dog. Goldthwait's latest feature is the outrageously dark (but again, heartfelt) comedy "World's Greatest Dad." A smartly subdued Robin Williams stars as Lance, a high school English teacher, failed writer, and father to an obnoxious, perverted, truly unlikeable teen Kyle (Daryl Sabara). After Kyle dies from autoerotic asphyxiation, Lance fakes his son's memoirs out of despair, turning his dead brat into a lovable martyr, and earning himself sympathy and self-confidence as a writer. Goldthwait sat down with me to talk about enjoying stand-up for the first time in ages, the famous director he slept with, and a follow-up to the marriage advice he gave me three years ago.
I'm sure you're sick of talking about career moments from more than 20 years ago, so I won't bring up "Police Academy" or that snarling voice you were known for.
I don't mind. I just went out and did "The Alimony Tour." I was on the road [doing stand-up], making money — eight cities in ten days. I filmed it, and I thought I'd make a movie about how club owners are douchebags and morning radio DJs are assholes. But nobody was, and I was like, "Why do I still hate this?" It was really clear to me: "Oh, I hate this character." So, while I was on the road, I said I'm not doing it anymore. It was terrifying to be in the heartland where they had ["Police Academy" co-star] Michael Winslow two weeks before making bird noises and helicopter farts or whatever. They were yelling, "Do the voice!" I stuck to my guns and just did it as me. It was hard and scary, but it was really freeing. A high ratio of it went well, and sometimes it didn't, but I learned the truth. I'm going to be honest with myself and the audience, and have a good time. For the first time, I had fun. I was going on an extra half hour and shit. I hadn't liked [stand-up] in years, so Zed is dead.
I know you don't have an asshole kid like Kyle in "World's Greatest Dad." But what would you do if you did?
I would probably make a movie about a wonderful child. [laughs] It's weird — I didn't realize I'd be talking about my own daughter so much with this movie because it's not based on her. A lot of parents in Hollywood make the mistake of trying to be their kid's friend, and I never wanted to be my daughter's friend. I didn't care if she thought I was cool, I just wanted to be a good dad. The byproduct is, now that she's an adult, you see we're actually… she just sent me a text saying, "You're my best friend."
This film and "Sleeping Dogs Lie" are both rather optimistic and sincere, given their grotesque premises. Do you try to challenge yourself in the writing stage with these conflicting ideas?
Yeah, it is a challenge, but both movies started at the end. I started this one with the [final] speech Robin makes before I really figured out who Kyle was going to be. There are challenges: can we still relate to these people or care about them after these early events? I don't know if it's some lazy writing style, but the script I'm almost finished with opens up with a guy shooting a baby. [laughs]
I read that you're working on a serial killer project, as well as finishing a trilogy that began with "Sleeping Dogs Lie" and this new film.
The baby thing, that's the serial killer one. I've written the third of the "boo-hoo trilogy" already, "Easter Dad," about a bitter comedian who gets stuck writing this piece-of-shit movie where the Easter Bunny… whatever. [laughs] The guy finds the true meaning of Easter. But I put it on the back burner because — I haven't seen it yet, but it sounds similar to "Funny People," about comedy and comedians, although this guy's not successful. I've also spoken with Ray Davies of the Kinks because I want to make a musical out of their album "School Boys in Disgrace." He's given me the thumbs-up to proceed, so I've been working on that also.
Speaking of "Funny People," why is there so much bitterness and misery among comedians?
Why can't they just shut up and enjoy it? Comedians have goldfish memories. A goldfish, by the time he swims around to the other side of the bowl, he can't remember where he is. Comedians are like that. Someone says: "I thought you were really funny, I thought it was a great show." "Which one? Which show did you go to?" They're insane. The further I got away from stand-up comedy, the happier I got. Maybe now I'll be happier. Actually, I know I am because when I jettisoned the [Zed] character, suddenly I was writing again.
Comics are miserable pricks. They're really self-absorbed. You know, what's always funny is when a woman says they want a man with a sense of humor. By that theory, comics would be getting tons of pussy. The reality is, they want a man with a sense of humor, but they don't want the other part of the comedian. They don't want the self-loathing. "Hey, you got a comedian." "Yeah, it's great. He talks about suicide a lot, and why he's not on Conan."