"Black Devil Doll." There are no words.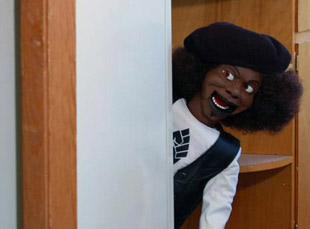 Posted by Vadim Rizov on
Making intentionally shoddy attempted cult movies tends to be a waste of time — usually all they turn out to be good for are high-concept trailers that give you all the fun without any of the dead time. Remember "Grindhouse" and the trailer for "Machete" and it was snicker-worthy when the voice-over said "They just fucked with the wrong Mexican"? And then Robert Rodriguez had to go kill the joke by deciding to turn it into a feature that would add nothing to the trailer? Yeah.
Below is the trailer for "Black Devil Doll," a blaxploitation Chucky movie designed to offend everyone. And maybe "offend" should be in quote marks, because when you show up for something that advertises itself as gleefully pissing all over everyone's sensibilities, it's not really that different from, say, Don Rickles.
I have no clue how good the movie itself — which has been making the midnight screening rounds — might be, but its hard to imagine it could top its own hilarious trailer. From the opening title ("Rotten Cotton Production" over a black power fist), it all sounds like this: "You got some big-ass [bleep], [bleep], but you ain't got no mother[bleep] brains." Even with the language censorship, it's unbelievably NSFW. And kinda gory. H/t to fourfour for digging this up: