Battling Hollywood temptation in radio musical form.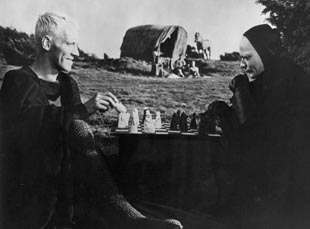 Posted by Vadim Rizov on
Sparks — brothers Ron and Russell Mael — is a cult band who haven't stopped being odd for nearly 40 years now. Depending on who you believe, Queen stole their hysterical falsetto in the '70s. After making 1974's "Kimono My House" (one of Kurt Cobain's favorite albums) they got bored of glam and became minor disco stars, hooking up with Giorgio Moroder to put out "No 1 Song In Heaven." With their sarcastic lyrics, high-pitched vocals and (of late) minimalistic song structures, the brothers keep on annoying 95% of the people who hear them and tickling the other 5%. Obviously, I'm in the latter camp.
Now Sparks has pulled off their weirdest project yet: an hour-long musical about Ingmar Bergman. "The Seduction of Ingmar Bergman" — done for Swedish National Radio — is made up of 24 songs following an extremely weird plot that has Bergman going into a multiplex after collecting the Palme d'Or for "Smiles Of A Summer Night" in 1956, seeing a Hollywood movie and exiting back out into Hollywood.
Sinister intrigues follow as the studios try to get him to work for them; "Work of art can also work / for some Midwest creepy jerk," one exec sings. They take him to the commissary and point out how happy Fritz Lang, Billy Wilder et al. are, but Bergman isn't convinced. He tries to escape, is pursued by cops and all seems lost — until Greta Garbo helps him get back to Sweden through another movie.
The musical's been recorded both in English and in Swedish, though only the Swedish version is accessible right now. You can stream it here up through September 12th. (The English version will be released on vinyl in October.) On first listen, it's my least favorite thing Sparks has done this decade — the music is choppy, and the musical doesn't seem to cohere — but it's worth a listen for novelty value alone. That I don't speak Swedish doesn't help, but I did catch "Method acting ist idiotisk," which isn't that hard to figure out.
Incidentally, if you've never seen the video for Sparks' "Dick Around," you can really annoy people with it. This is the most cat masks you'll ever see in a video, guaranteed: