Avatar: how many other films can it embody?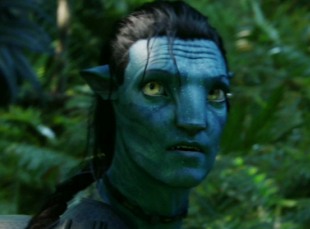 Posted by Brandon Kim on
James Cameron's much-hyped "Avatar," is the first feature film he will have directed since 1997's "Titanic" when it releases in December. After what was apparently a spectacular 16 minute teaser trailer at select IMAX theaters, the film has already sold tickets, 4 months ahead of release. It's a revolution in cinema you know.
I must say, the 2 minute version I've seen is quite cool. The music is especially brilliant, that long tone evolving into a droning cacophony pulls you right in and doesn't let go. It doesn't jerk you around like most big budget broke trailer compositions that have to cue every action and every cut with an overblown explosive sound.
(A human payed by Sam Worthington inhabits an alien body in "Avatar")
But, for all it's revolutionary claim it just looks like a glossy mash of other films to me. Last of the blue Mohican's on the forest moon of Endor. There's a drink name in there somewhere, cocktology enthusiasts take note. In all seriousness, there's more imagery at work from the playbook's of "Aliens," "The Abyss," and "The Terminator" than I'd think possible to fit into 2 minutes of original footage. I've seen all those marines before, I've seen those machines, the fluid filled tank, the crazy light tube, the airships, the luminescent alien world. Who does Cameron think he's fooling?
Thing is, all of those are James Cameron movies. I suppose that let's him off the hook. There is however, a controversy over a little animated film called, "Delgo." Someone did a shot by shot comparison that is somewhat supportive of foul play. Many similarities between the alien creature shots are uncanny, others seem to me, just part of a collective unconsciousness, a natural way of depicting things. A lawsuit may be in the works from the producers of "Delgo," a film I'd never heard of until today. Check out the side-by-side rundown on JoBlo.