Armond White and the art of trolling.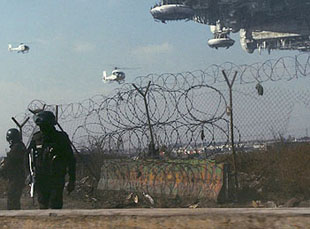 Posted by Vadim Rizov on
There are really two kinds of people who care about constantly controversial New York Press critic Armond White. There are those who care about keeping up with film criticism regardless of what the movie is; White's a veteran critic, a member of the New York Film Critics Circle, etc. He is Important, and you read him. And then there's the rabid geek who lurks on Rotten Tomatoes, waiting for someone to challenge his or her (or, c'mon, his) sense of priorities.
Like "The 700 Club" and Glenn Beck, White's work is reliably, pleasurably insane on a week-to-week basis; the volume of the outcry it provokes depends on who's paying attention. And because the fanboys have a higher web presence than anyone else, it's no surprise White's distinctive take on "District 9" has them up in arms. For veteran readers, it's business as usual: invocations of superior precedents (his beloved Steven Spielberg, natch), dismissive references to movies most people enjoyed as obviously stupid ("Children Of Men"), loving references to movies that annoyed most people ("Indiana Jones And The Crystal Skull"), a Morrissey reference, and… scene. White's main point — a not unreasonable one, for a change of pace — is that Neill Blomkamp's apartheid allegory is poorly conceived and trivializes what it seeks to examine. It's arguable, but at least it is, in fact, arguable.
Roger Ebert saw it that way initially when he wrote "In Defense Of Armond White" — a needed defense, considering Armond's review stands at 497 comments and counting at Rotten Tomatoes, all of them negative and some of them straight-up racist. Tackling head-on "White's reputation as a critic who 'doesn't like anything,' " he harrumphed that "it would be more accurate to say he dislikes a great many films approved of by fanboys." Ebert likes "District 9,", but agrees with the legitimate grounds for disliking it. But he backtracked when he saw a chart someone had prepared for the angry hordes, dividing up good and bad movies according to White, and noting that critical darlings "A Christmas Tale" and "The Assassination Of Jesse James By The Coward Robert Ford" fell under the "Bad movies" category, while first up under "Good movies" was "Transformers 2."
Well, that was all Ebert needed. In his perpetual war against Michael Bay's sequel, his mortal cinematic enemy, he was forced to retract and qualify: "It is baffling to me that a critic could praise 'Transformers 2' but not 'Synecdoche, NY.' […] I am forced to conclude that White is, as charged, a troll. A smart and knowing one, but a troll." Personally, I've never doubted White's sincerity. His most annoying tic is the one in which he reviews two movies in a week, using one as a stick with which to club the other. There's no measured middle ground, just ecstasy and agony; this means that he's occasionally forced to rhapsodize about, say, "Transporter 3."
White has to enjoy his position as a bomb-thrower, but that doesn't mean he's kidding; one does not, generally, build an over two decade career on a desire to publish the print equivalent of "LULZ." White is many things — most of them annoying — but he's not a troll. And "Transformers 2" shouldn't change that anymore than, say, the fact that Ebert gave three and a half stars to Ice Age: Dawn Of The Dinosaurs". You know?