All your questions about George Hamilton will be answered.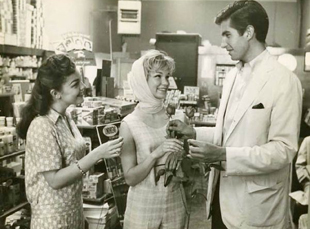 Posted by Vadim Rizov on
Blessed with an absolute lack of self-awareness, George Hamilton has been America's favorite actor/tanner for near on 50 years now, even if his currency as a pop-culture punchline expired in the late '70s, in a series of "Doonesbury" strips where he mentored Zonker Harris on the art of bronzing. But he perseveres.
Last year he graced the world with his autobiography "Don't Mind If I Do," and Friday viewers everywhere will get a chance to see his dramatized teenage years. "My One And Only" stars the perma-hapless Renée Zellweger as George's mother, gallivanting across the country in search of the perfect man; presumably George sits back and takes notes, preparing for his future career as the Wilt Chamberlain of Hollywood. Sadly, it would appear that Hamilton losing his virginity to his stepmother at age 12 (per his memoir, "nice and easy") didn't make the script.
It's hard to tell why this project came into being — a faithful, gloves-off adaptation of Hamilton's life would play like a real-life Dorian Gray, but "My One And Only" ain't that. A shame: the real thing would be considerably more interesting and would in the very least give that Tucker Max movie a run for its money.
At 70, his star freshly added to the Hollywood Walk of Fame, Hamilton remains a matchless source of inadvertent interview hilarity. Impatiently reviewing his memoir in the New York Times, Ada Calhoun pointed out the matchless sentence "For a so-called dictator, Ferdinand Marcos seemed awfully civilized." (Let the man tan and he doesn't care about anything.) Talking to the Hollywood Reporter about his star last week, Hamilton offers gems about choosing film roles in his '60s heyday: "If I felt the script was too heavy, I didn't want it — because then I had to learn too many lines." Would he do Shakespeare? "No. I find Shakespeare fabulous to listen to and I love it, but I just hate learning dialogue. I've hated it my whole life." A bold admission for a professional actor. And his old pal Imelda Marcos? "I admire people who rise above things." Rise above, Imelda. Rise above.