Alien and Ridley together again, sans Ripley or Goldsmith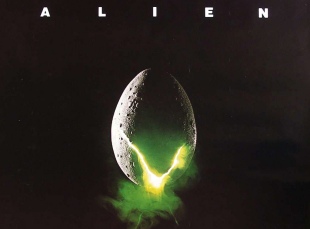 Posted by Brandon Kim on
It might be a bit early to declare with certainty that Ripley will not be in the planned "Alien" prequel, that Ridley Scott's returning to direct after sitting out the last three films. Studios often devise ways of bringing characters back to sci-i franchises that are not born yet, or who've already died – look no further than Ripley in "Alien: Resurrection." But it's probably safe to say that a 59 year old Sigorney Weaver would not return to the series into a time frame earlier than her first role (back in 1979).
Clearly, the great Jerry Goldsmith, now deceased, will not reprise his role as composer. "Alien" succeeded wildly on it's use of sound and Goldsmith's musical composition, as well as purposely refraining from using them until the right moments. I'm reminded of the trailer which took #1 on our The 50 Greatest Trailers of All Time list.
My Aunt Carla liked to introduce me to the most horrifying movies, and did so with "Alien" at a very young age long before all the 90's namby pamby child psychology. I'd never been more scared, but I'm fine now, people are boring without a few neuroses. Goldsmith said reminiscing about the first time he screened the film, "I kept saying, it's just a movie, it's just a movie. It really scared the shit out of me." Then he went on to create that awesome score, forlorn, terrifying.
Who's got the right combination of neuroses and talent to score the prequel? Will we get the predictable but still cool closure scene of Ripley and her crew cruising toward the derelict at the end?