Vacillating Voiceovers: A History of Unreliable Narrators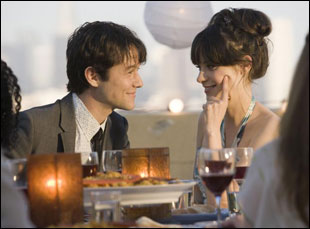 Posted by Matt Singer on
We trust the movies. We have to. Most of them only work if we look up at the images changing 24-times-a-second in front of us and believe that they reflect some sort of objective reality where a man can fly his house to South America or alien robots can transform into cars. Even when a movie is told entirely from a character's perspective, we assume that the intimacy cinema provides to hear a person's thoughts or see things the way they do affords us some safety from deception. We are wrong. People lie; the movies can too.
Some movies take that trust and exploit it, or prey on it, or play with it. In "(500) Days of Summer," a man named Tom (Joseph Gordon-Levitt) falls in love with a woman named Summer (Zooey Deschanel). The film begins with Tom's friends sitting him down and asking him to explain what happened in his relationship with Summer, then pinballs through his memories as he relates the 500 day affair via stream of consciousness. Tom's perception of what happened colors what we see: his elation after his first night with Summer turns the scene into an elaborate Stanley Donen-Gene Kelly dance number. These sorts of moments begin to clue us in that Tom isn't the most reliable narrator, that we're only really getting one side of this story. Then again, incomplete as it is, Tom's perspective has value too. Even if we doubt the reality of Tom's account, we never doubt the film's convincing (if biased) representation of a lovelorn soul's troubled psyche.
On that (subjective) note, here's a list of 12 more films that have been controlled, manipulated, and sometimes illuminated by unreliable narrators. But be warned: if you haven't put your trust in these films yet, reading about them now could spoil their surprises for you in the future.
"American Psycho" (2000)
Mary Harron's 2000 adaptation of Bret Easton's Ellis' novel retained key pieces of the book's essential first-person narration via voiceover. Much of the novel's success depends on the strength of its unreliable voice, and Harron translates that strangely constricted, untrustworthy perspective to film. At first, we see Patrick Bateman (Christian Bale) as a pristine specimen, albeit one with a definite skin care fetish. "I believe in taking care of myself," he says in his clipped, nasal diction, as we watch his perfect body curl through its morning exercises. Sounds reasonable. But then, after listing off several steps in his skin care regimen and peeling a transparent mask off his face, he says, "There is an idea of a Patrick Bateman, some kind of abstraction, but there's no real me, only an entity, something illusory." Those are words of warning, as clear a declaration of unreliability that a narrator can make, and from that point on, the story of a Wall Street wunderkind's descent into murder and madness becomes as abstract and illusory as its protagonist.
"Detour" (1945)
Al Roberts blames his sordid story on fate. He crumples into a diner seat and reflects on the deaths that haunt him: "Did you ever want to cut away a piece of your memory and blot it out?" The question is whether his voiceover is doing the blotting. His tale is an improbable succession of morbid accidents (a forerunner to "Final Destination"?) that leaves Roberts as the sole witness. On the surface of this waking nightmare, there's no alternative to his POV: "That's life. Whichever way you turn, Fate sticks out a foot to trip you." There are subtle gaps between his words and director Edgar G. Ulmer's images, however, that have led many writers (most of all Andrew Britton) to conclude that Roberts' story is an elaborate cover-up. His dancehall girl ditches him for L.A. when he says their relationship was "the most wonderful thing in the world." Then he picks up Vera (Ann Savage) for no good reason, and she immediately pegs him as a murderer: "What'd you do, kiss him with a wrench?" There are cracks in his constructed reality, and his entreaties to fate could also be looked at as the desperate rationalizations of a guilty man.
"Mad Detective" (2007)
In the opening sequence of this Johnnie To-Wai Ka-Fai thriller, Inspector Bun (Lau Ching-Wan) stabs a pig carcass, zips himself into a suitcase and has his partner toss it down the stairs. This kind of psychic-psychotic method is effective (the ice cream shop owner did it!), but there's no doubt he has multiple screws loose. So when Bun says that he can visualize people's inner personalities (portrayed by an array of idiosyncratic character actors), it's never clear whether it's an example of his madness or a legit supernatural power. His wife and pals think he's nuts, but To films this gift from Bun's POV, introducing a kernel of doubt as to the reality of his hallucinations (when To's lyrical camerawork captures something, you want to believe it). You have to watch the film with a double vision, balancing faith and skepticism throughout, navigating each cut as a clue to Bun's ultimate reality. It's impossible to make a definitive statement about a film premised on narrative ambiguity, but just between you and me, I believe in Bun.
"Fight Club" (1999)
"Fight Club"'s twist wouldn't work if director David Fincher didn't first thoroughly establish Edward Norton's downtrodden, aimless protagonist as relatable and, therefore, reliable. Stuck in a dull middle-class job with little compassionate human contact, buffeted by modern society's non-stop advertising onslaughts, Norton's narrator is an empathetic proxy for early 21st century disaffection with consumer culture. And because of it, no suspicions about his untrustworthiness arise even after he enters into a friendship with traveling soap salesman Tyler Durden (Brad Pitt) and begins attending underground fight clubs with his new pal. Setting up his narrator as a glum everyman and then interjecting homoerotic suggestions into the character's central relationship with Durden, Fincher cannily diverts attention away from the reality-altering denouement lying in wait, in which Durden turns out to exist only in the narrator's mind, the muscled fight clubber merely one side of Norton's split personality. Thanks to Fincher's expertly orchestrated manipulations, the revelation is a stunner of epic proportions, making Norton's character one of the most successfully (self-)deceptive narrators in cinema history.
"My Best Fiend" (1999)
Thanks to their five combative collaborations on classics like "Aguirre, the Wrath of God" and "Fitzcarraldo," director Werner Herzog's relationship with actor Klaus Kinski had, by the time of this 1999 Herzog-helmed documentary, become part of cinematic lore. Kinski was a madman and Herzog was his behind-the-camera equal, the pair's rapport so combustible that, as recounted in Les Blank's "Burden of Dreams," Herzog reportedly plotted to have his star assassinated by locals during "Fitzcarraldo"'s production. Many such anecdotes are addressed in "My Best Fiend," Herzog's nonfiction portrait-cum-tribute to Kinski (who died in 1991), which is undeniably driven, first and foremost, by the director's affection for his colleague. Yet Herzog's tendency toward grandiloquent exaggeration — as well as, crucially, the absence of Kinski to verify or rebut the claims made — results in a frequently lopsided portrait of a creative partnership, one whose truths are so deeply colored by Herzog's slanted perspective that it's nigh impossible to get a complete handle on which of these two titanic artists was the real fiend.
The Cabinet of Dr. Caligari (1920)
With its devious twist ending, Robert Wiene's expressionist landmark throws its entire narrative into question. The meek schoolboy Francis had told the whole infernal tale, of the wild-haired Dr. Caligari (Werner Krauss) and his somnambulist assassin Cesare (a mournful Conrad Veidt), and of the death of his dear friend Alan at the latter's unconscious hand. But as the last sequence reveals, the story might all be the result of his diseased, and very imaginative, mind (a quality possessed by the expressionists themselves). In his bravado ending, Francis reveals that Caligari was actually the head of the psychiatric hospital, and thanks to his heroics, was locked up ranting madly in a cell. But in a great gutpunch final act (imposed by skittish producers eager for a slightly happier conclusion), Francis wanders into the asylum and recognizes Cesare fondling a bouquet of flowers, his gal Jane playacting as a queen, and, alas, Caligari himself as the director, very much free, and very sane. They were the characters in his fantasy, and Francis' fate is the same as his fictional Caligari's, alone with nothing more than his paranoia and fear to comfort him.