The Thermals: Interview and behind-the-scenes video premiere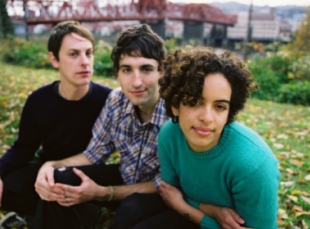 Posted by Brandon Kim on
Check out this vidy (first seen here) of The Thermals at their new label, Kill Rock Stars, in Portland putting people and dogs on the spot. Then, I put lead singer Hutch Harris on the spot about their transition from Sub Pop, fascists, the usual stuff….
Their latest record, Now We Can See, is available from KRS and if you're in Seattle on July 25th they play the Capitol Hill Block Party with Sonic Youth.
(The Thermals: Hutch Harris, Westin Glass, and Kathy Foster. photo credit: Alicia J. Rose)

Video by Lance Bangs

BK: Tell me about the seemingly amicable move from Sub Pop to Kill Rock Stars, did you just want a looser contract, greener grass?
HH: I wouldn't say the contract is looser, it just met our demands. We wanted to own the master and license it to a label, and split the profits 50/50. We also didn't want to be tied to any label for more than one record. Kill rock stars gave us everything we wanted, and they had recently moved to Portland. EVERYTHING is greener here.
BK: You guys seem to be really pro-Portland. Give me your spiel, what would you say to convince me to leave Brooklyn and move there… or would you?
HH: Portland is definitely one of the best cities in the world… I wouldn't try to convince everyone to move here, though. I would say move here if you have a job already, but don't expect to find one here. Also, do you like rain? I mean, do you LOVE rain?
BK: Your last album was about the US being governed by fascist Christans, and this new one's theme deals with death and reflecting on the past or so it seems. Is the nightmare over?
HH: Tricky question. One nightmare is partially over. Bush is gone, but his legacy remains – endless war! Plus you can't stay up forever, you have to sleep again sometime, which means there's always the danger of another nightmare beginning.
BK: Will the next record be about a re-birth?
HH: The next record was actually going to be about ghosts, but really that's not far enough from all the death on this last record. The next record is going to be about relationships. Love, or the lack thereof. I'm thinking of calling it sex, lies and audiotape.
BK: What are the "warnings and the signs" we should look for?
HH: There are so many. The most fun ones are dangerous curves ahead, slippery when wet, and hazardous materials. Also make sure you don't let your child play in a plastic bag.